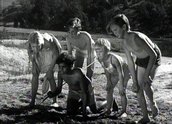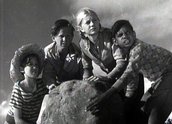 Bush Christmas (1947)
Synopsis
In the beautiful Mara Mara valley, the three Thompson children – Helen (Helen Grieve), John (Morris Unicomb) and Snow (Nicky Yardley) and their English friend Michael (Michael Yardley) – are looking forward to the Christmas holidays. Riding their horses home after school breaks up, they find two strangers camped in the bush. Long Bill (Chips Rafferty) and his chubby mate Jim (John Fernside) are horse thieves, but the children innocently divulge details of their father's valuable mare and foal. When these are stolen from their farm the next day, the four children and their friend Neza (Neza Saunders), son of an Aboriginal stockman, ride into the mountains to get the horses back. After a few days they are lost and hungry. Neza teaches them to live off bush tucker, such as snakes and grubs, and Snow picks up the trail of the horse thieves, who are now joined by a third villain called Blue (Stan Tolhurst). The children recover the horses, then steal the men's boots and blankets. Neza spears their water bag. The children walk into a trap in an old ghost town just as Mr Thompson (Pat Penny) and the local police catch up. The thieves are caught and the children return home for a much anticipated Christmas dinner.
Curator's notes
Bush Christmas was made almost entirely for consumption by British children but it became very popular with Australian children as well. Children's Entertainment Films (CEF) was set up in 1943 by J Arthur Rank to make films for his network of Children's Cinema Clubs across Britain. These were Saturday morning matinee clubs with programs of shorts and short features. The CEF became the Children's Film Foundation in 1951, which produced over 80 films from 1951 to the 1980s, many made by prominent directors such as Michael Powell.
Bush Christmas was the CEF's first feature, and it was a huge hit with the cinema club audiences. The film opened in Sydney in December 1947 and ran for eight weeks. Writer and director Ralph Smart, although born in Britain (to Australian parents), had worked in Australia from 1940-45 making shorts for the Department of Information and the Royal Australian Air Force. He kept the elements of Bush Christmas simple – five children, three bad guys and a lot of beautiful scenery, all of it in the Blue Mountains, west of Sydney. The film offered many exotic and curious elements for British children – kids who rode horses to school, an Aboriginal child skilled in tracking and capturing bush food – but the film's great appeal was in the capability of the children. They are seemingly afraid of nothing, including bad men with guns (clip three). They are even game (almost) to eat snake, although none seems keen to share Neza's canteen of witchetty grubs, which he takes delight in eating live. The addition of Neza's character gives the film some interesting thematic ideas.
Films made specifically for children were still largely a novelty in Australia in 1947 (see The Kid Stakes, 1927). Films in which black and white children were friends were nonexistent, but Bush Christmas goes even further. Neza's character is the most capable of the five once they take off into the bush. He guides the rest, secures the food and wields his spear with great accuracy, to pierce the water bag of the footsore criminals. At the beginning of the film, he's shown as attending the same school as the other four, and as a friend, although he's still 'different'. When the white children decide to ride home on a detour along 'the ridge', Neza jumps off John's horse, because he says 'that bad place'. There is an Aboriginal burial ground there, but the other kids don't understand his reluctance. 'Who knows?' says Helen, the eldest. 'The blacks have their own ideas'. In symbolic terms, Bush Christmas presents a version of what was then thought of as an 'ideal integration', where black and white children could be friends, but remain distinct within their own cultures. What's unusual about the film is that Neza's culture is portrayed as superior, at least in this environment.
Ralph Smart returned to Australia in 1949 to direct Bitter Springs, a film that deals more directly with relations and conflict between black and white. Smart eventually settled in Bowen, Queensland, where he died in 2001.