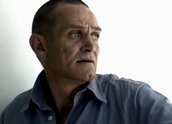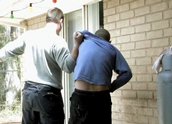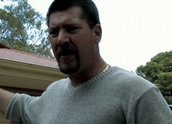 Boxing Day (2007)
Synopsis
Chris (Richard Green), a convict serving out the remainder of his sentence in home detention, is determined to stay both on the wagon and out of trouble. He's carefully preparing a Boxing Day lunch for his estranged family when an unwelcome visitor drops in. Owen (Stuart Clark), an old criminal associate, tries to tempt Chris into having a drink and then leans on him to look after a packet of the illegal drug ice.
When the family arrives – Chris's ex-wife Donna (Tammy Anderson), her boyfriend Dave (Syd Brisbane) and Chris's daughter Brooke (Misty Sparrow) – Owen makes an accusation that hits everyone like a rock tossed into a still pool. Events rapidly spin out of control but the film ends on a moment of hope and reconciliation.
Curator's notes
Boxing Day is significant both aesthetically – it was filmed in long takes, seamlessly edited together to give the appearance of being shot in an epic single take – and in terms of its production history, since it is the first feature to be almost entirely funded by an Australian film festival.
Its initial budget of $150,000 came from the Adelaide Film Festival's Investment Fund, set up to support the making of local films that would premiere at the biennial festival. Post-production services worth $24,000 were provided by Rising Sun Pictures.
The film's director and co-writer, Kriv Stenders, had previously made a self-funded, micro-budget feature called Blacktown (2005), a personal project undertaken while trying to raise funding for the $3.8 million black comedy, The Illustrated Family Doctor (2005). Blacktown won critical acclaim at the 2005 Melbourne and Sydney film festivals, winning Sydney's Audience Award for best feature in the sidebar program. The film caught the attention of Adelaide film festival director Katrina Sedgwick, who commissioned Stenders to make Boxing Day to premiere at the 2007 event.
Boxing Day screened at the leading Asian film festival, Pusan (in South Korea), and at the Montreal Festival du Nouveau Cinema, where Richard Green won the best actor prize and the film received a special jury mention. It also won an Australian Directors Guild-Directors Guild of America Finders Screening Award, which meant it was specially screened for US distributors.
Like Blacktown (2005), Boxing Day was not conventionally scripted. Stenders developed the characters and story in collaboration with his mostly non-professional cast, who loosely based their characters on their own personal histories (the exception being Syd Brisbane, the sole professional actor). Stenders then wrote what he calls a 'scriptment' – halfway between a script and a script treatment – that outlined the narrative. The cast were required to improvise the majority of the dialogue.
Stenders's techniques are, of course, as deliberate and stylised as those used for more conventional or obviously artificial films. The point however is not that Boxing Day is real – as an artistic artefact it is by definition abstracted from reality – but that its production methods bring it subjectively closer to the shifting, complex realities of everyday human interaction.
The method of production, added to Stenders's tendency to keep piling pressure onto his characters and push dramatic confrontation to the forefront, helps to create an unusually intense sense of foreboding, danger and unpredictability. Viewers may feel on a gut level that nothing is preordained and that anything can happen at any moment. Reviewer Philippa Hawker, writing for The Age newspaper, captured both its challenges and appeal when she described the film as 'harrowing' while also praising it as 'rewarding … a raw, vivid, risky movie that juggles intensity and excess, yet shows moments of restraint and grace'. These latter moments, such as a warm and intimate outdoors scene between Chris and his daughter, give the viewer vital breathing space between the explosive scenes and help to create a more richly variegated emotional palette than the synopsis might suggest.
Richard Green drew on his experience as a former convict to build a vivid and sympathetic portrait of Chris as a man whose determination to escape his dark past is severely put to the test. The fact that Chris is Aboriginal only emerges when his dark-skinned daughter, Brooke, arrives. Nothing is made of this until a scene where father and daughter speak in private and Chris briefly addresses her in an Aboriginal language. Unlike films like Rabbit-Proof Fence (2002) or The Fringe Dwellers (1986), Boxing Day does not treat the place of Aboriginal people in Australian society as a major theme – though, as subtext, Chris's Aboriginality and his background reflect the relatively high proportion of Aborigines in Australian jails. His relationship with his daughter also demonstrates the importance of extended family amongst Indigenous Australians.
Although the film has not been widely seen in cinemas – it had a brief season on a single Melbourne screen in November 2007 but failed to attract national release – Boxing Day remains one of the most compelling Australian features of the mid-to-late 2000s.