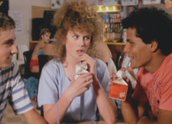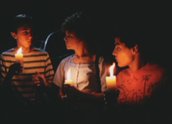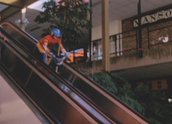 BMX Bandits (1983)
Synopsis
Teenage BMX bike riders Goose (James Lugton) and PJ (Angelo D'Angelo) become friends with Judy (Nicole Kidman), who is working the summer at a supermarket, when their bikes are destroyed by runaway shopping trolleys. Judy is fired and, with time on their hands and in dire need of money, the three friends decide to go fishing. Discovering a sunken treasure of illegal police-wavelength walkie-talkies gives the friends a money-making idea. It also sets them on a collision course with some incompetent but persistent bank-robber goons and an equally ineffectual police force.
Curator's notes
BMX Bandits is a cult classic. Starring a 15-year-old Nicole Kidman in one of her first major roles, it was shot by Academy Award-winning cinematographer John Seale and directed by one of Quentin Tarantino's favourite directors, Brian Trenchard-Smith (see Not Quite Hollywood, 2008).
Trenchard-Smith had earlier collaborated with Seale on The Man from Hong Kong (1975), and also directed Turkey Shoot (1982) and Dead-end Drive-in (1986). BMX Bandits was released internationally in cinemas and still has a following today. It was also the inspiration for a Scottish pop group of the same name.
Capitalising on the BMX bike craze of the 1980s, the film tells a simplistic story of adventurous teenage goodies versus bumbling adult baddies. The thinly-plotted premise provides an opportunity to showcase plenty of bike stunts amidst extended comic and cartoon-like chase sequences around Sydney. These include a famous scene shot with BMX bikes inside the Manly Waterworks.
Seale's inventive and dynamic camerawork helps to sustain long action-chase sequences involving bikes and, at various times, trucks, cars, boats, hapless goons on foot and cream pies. The gun-toting goons and bank-robbing action sequences would push the boundaries of what is considered acceptable in a children's movie today, but were mild by the standards of many films made in the same decade.
BMX Bandits was released in Australian cinemas on 22 December 1983. It was nominated for four AFI Awards in 1984: Best Supporting Actor (David Argue), Adapted Screenplay (Patrick Edgeworth), Editing (Alan Lake) and Sound (Andrew Steuart, John Patterson, Robin Judge, Phil Judd and Gethin Creagh).