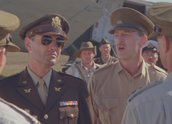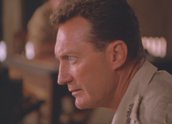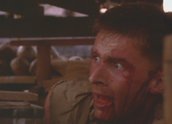 Blood Oath (1990)
Synopsis
On the Indonesian island of Ambon in the immediate aftermath of the Second World War, Australian soldiers force Japanese military captives to dig up a mass grave of Australian soldiers. The dead men were prisoners in the island's Japanese POW camp. A military tribunal is set up to prosecute the Japanese officers responsible.
The chief prosecutor, Captain Cooper (Bryan Brown), quickly realises his case against the region's supreme Japanese commander, Vice-Admiral Baron Takahashi (George Takei), is hopelessly hamstrung by the lack of witnesses. Allied soldiers who were there are either dead or psychologically damaged and the Japanese prisoners aren't cooperating. Takahashi blames his subordinate for the deaths and the Americans want Takahashi's help in their postwar plans for Japan. Cooper hits a brick wall until he investigates the fate of four Australian airmen who initially survived after being shot down over the island.
Curator's notes
As the story of a war crimes trial involving Australians, Blood Oath has striking echoes of the film Breaker Morant (1979), which also featured Bryan Brown. Morant was set during the earlier Boer War but both films argue that Australian troops had been effectively betrayed by their allies.
A major theme in Blood Oath is the Australian push for justice versus the US desire for compromise due to political convenience. In other respects Blood Oath is more like an ironic inversion of Breaker Morant than a straight reflection. Where the first film was about Australian soldiers on trial for war crimes, Blood Oath focuses on an Australian legal team attempting to prosecute the Japanese officers responsible for mass killings of allied personnel – mostly Australians.
This was a very personal project for writer-producer Brian A Williams. He was inspired to write the screenplay (with Denis Whitburn) by his discovery, aged 12, of his father's documents relating to war crimes on Ambon during the Second World War. These consisted of transcripts of the immediate postwar trial and photographic evidence.
The film is notable for its consistently fine ensemble performances from both the Australian and Japanese (or Japanese American) actors. Brown is especially admirable here, his fierce determination as Captain Cooper palpable but never over the top. The role is a fictionalised version of the screenwriter's father, Captain John Williams, the tribunal's real-life prosecutor.
Also notable in his first screen role is Russell Crowe, making an impression in the relatively small part of Lt Corbett. John Polson, later to become the founder of the successful international short film festival Tropfest as well as a US-based director, impresses in the role of an Australian soldier suffering from anxiety disorder.
Blood Oath was released in Australian cinemas on 26 July 1990. It was nominated for nine AFI Awards: Best Picture, Director, Supporting Actor (John Polson and Toshi Shioya), Original Screenplay (Denis Whitburn and Brian A Williams), Cinematography (Russell Boyd) and Production Design (Bernard Hides); and won the awards for Sound (Ben Osmo, Gethin Creagh and Roger Savage) and Costume Design (Roger Kirk).