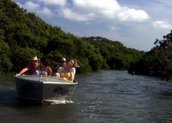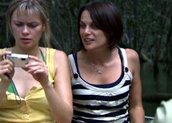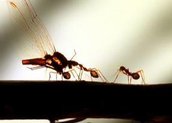 Black Water (2007)
Synopsis
Based on a true story, Adam (Andy Rodoreda), his girlfriend Grace (Diana Glenn) and her younger sister Lee (Maeve Dermody) set out on a driving holiday in a lush area of northern Australia. After a visit to a crocodile farm, the trio drive to an isolated spot to go fishing with a guide from a company they find in their guide book. Once out on the boat, however, things start to go wrong. Their dinghy is attacked by what seems to be a large crocodile, and the consequences are soon fatal.
Curator's notes
Black Water was made by Andrew Traucki and David Nerlich for about one million dollars. The budget came from private investors in the UK and the AFC's Indivision initiative, aimed at encouraging filmmakers to make bold, inventive, successful films for very little money.
It's a big achievement to make any feature for one million dollars or less. The budget of Black Water was kept low by containing the number of locations, telling the story with only a small cast, keeping the crew to a minimum, filming for only a few weeks, and filming near a major production centre to avoid having to pay for the cast and crew's accommodation. Most of the film was shot in the Georges River in Sydney's southern suburbs. Only a little was shot in northern Australia's crocodile country, where the film was set.
Coincidentally, Black Water was filmed soon after Rogue (2007), which also told of a crocodile terrorising people in remote Australia. Because of the commercial and critical success of his debut film, Wolf Creek (2004), writer-director Greg McLean was able to secure a $30 million budget for Rogue (2007).
But neither film excelled in Australian cinemas: only $1.79 million worth of tickets were sold to Rogue when it was released by Roadshow on 170 screens in November 2007; and fledgling theatrical distributor AI Interactive struggled to convince exhibitors to screen Black Water on more than a few screens.
With multiplexes dominated by US films with huge budgets and big stars, and art-house cinemas featuring the best films from around the world, it is very difficult to receive exhibitor support for small Australian films such as Black Water. It did, however, sell very well internationally.
Black Water received a staggered release, opening in Darwin on 24 April 2008. It earned 2008 AFI Award nominations for Supporting Actress (for Maeve Dermody) and Editing (Rodrigo Balart).