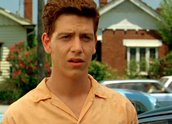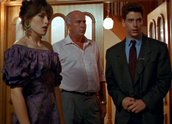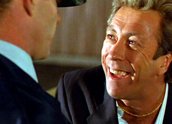 The Big Steal (1990)
Synopsis
Danny Clarke (Ben Mendelsohn) wants only two things – a Jaguar automobile and a date with Joanna Johnson (Claudia Karvan), the prettiest girl in his high school. Through Gordon Farkas (Steve Bisley), a shonky car dealer, he buys a second-hand XJ6, and takes the beguiling Joanna to a nightclub. The evening ends in disaster – a blown engine and Joanna covered in oil. The car is a lemon, and Danny's eccentric working class English parents (Marshall Napier and Maggie King) are upset that he traded their 1962 Nissan Cedric to buy it. Danny and his best mates Mark (Damon Herriman) and Vangeli (Angelo D'Angelo) hatch a plan to right some wrongs, so that true love and the XJ6 may run smoothly again.
Curator's notes
The Big Steal concerns itself with two things dear to the hearts of most growing boys – cars and girls – but it deals with the topic in unpredictable ways. The film is by the married team of director Nadia Tass and cinematographer David Parker, who wrote the script. This was their third feature together, beginning with the much-loved comedy Malcolm, and The Big Steal has some similar qualities. It's made with considerable warmth, a sense of wry observation of the characters, and a certain quirky joy. The comic style isn't as deadpan as in Malcolm, but this is a film aimed at a younger audience – the late teens going through similar experiences to Danny and Joanna. Ben Mendelsohn had made a big impression three years earlier in The Year My Voice Broke. He was about 20 when he made The Big Steal, but already an experienced actor. Claudia Karvan was 17, and had been acting since she was 14, but The Big Steal was her first real comedy. Both gave winning performances, in roles that allowed a degree of intelligence to their characters.
Danny may be obsessed by Jaguars, but he's also shown as a good kid, with a sense of empathy and fairness, and a touch of poetry in his soul. Joanna is a stunning beauty, certainly, but outspoken and clear about wanting more than a high school romance, or another night at the local disco. In a sense The Big Steal is two different films – one is an exuberant comedy about teenagers outwitting corrupt adults (the car dealer played beautifully by Steve Bisley), complete with car chases and a touch of mayhem. The other is a variation on Romeo and Juliet, a romance about two beautiful youngsters from different families trying to find their way into the adult world. The scene with the loudhailer (clip three) offers a clever variation on Shakespeare's balcony scene.
The difference between the two sets of parents adds a degree of social satire – Mr Johnson lives in a 'better' house (a sort of McMansion), and regards himself and his family as above the Clarks. The film makes it clear that the two fathers, both named Desmond, are not so far apart – they were even in the same class at technical college some years earlier. Mr Johnson is a 'bracket-creeper', a man with pretensions to greater status and class. The fact that he also drives a Jag is supposed to give Danny Clark some perspective on his own aspirations.