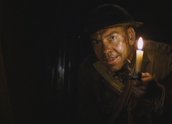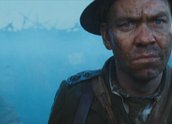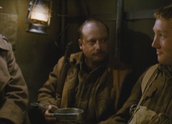 Beneath Hill 60 (2010)
Synopsis
In 1916, during the First World War when both sides have fought to a virtual standstill, Queensland miner Oliver Woodward (Brendan Cowell) joins up. He becomes a captain and leads his men, many of them fellow Australians with mining experience, on dangerous missions to tunnel beneath enemy lines to plant explosives. On arrival in France he takes a shell-shocked teenage soldier, Private Tiffin (Harrison Gilbertson), under his wing and becomes a surrogate father to him.
Initially disliked by some of his colleagues for joining up late, Woodward proves his mettle on a risky night-time mission above ground to take out an enemy sniper nest. Interleaved with the war scenes are flashbacks to events in the immediate lead-up to Woodward's arrival in France, including his courtship of Marjorie (Bella Heathcote), the 16-year-old daughter of a neighbouring rural Queensland family.
Woodward's war service reaches a climax when he and his men are transferred to the notorious Messines Ridge in Belgium where they are charged with carrying off the largest explosion ever set off in human history – the result of an ambitious plot to break the deadlock between both sides and deliver victory. In the process Woodward and his men go through much suffering, face agonisingly difficult decisions, and learn the terrible true cost of war.
Curator's notes
Beneath Hill 60 is an ambitious and relatively large-scale Australian drama. By focusing on Australian miners tunnelling beneath enemy lines to plant explosives, it introduces a fascinatingly unfamiliar element into the well-worn sub-genre of the First World War movie. The filmmakers have achieved the look and feel of a film made for several times its roughly $9.5 million production budget.
David Roach's script is based on the stories of real-life soldiers who were involved in tunnelling, including that of Woodward (whose war diary was researched). This seems to have contributed greatly to the feeling of authenticity the film achieves. Not only does the film feel emotionally accurate, but the language and manners of its characters appear entirely believable for the period. This is especially true of the flashback scenes, where Woodward approaches his courtship of Marjorie using manners and speech that are highly formal by today's standards.
Adding to the film's achievement is the high standard of ensemble acting from a cast directed by actor-turned-director Jeremy Hartley Sims (who doesn't appear on screen). Sims's only previous feature, Last Train to Freo (2006), was a very small-scale drama – not much preparation, you might think, for a production as expansive as Beneath Hill 60, though his debut's limited train carriage location showed that he had a feel for claustrophobic, pressure-cooker settings.
Sims achieves great intensity in all but the domestic flashbacks, which seem there to relieve the claustrophobia of the war scenes and arguably could have been cut back without any loss. Australian reviewers were generally enthusiastic about the film, which earned $3.5 million at the Australian box office.
Beneath Hill 60 was released in Australian cinemas on 15 April 2010. It was nominated for 12 AFI Awards: Best Picture, Director, Actor (Cowell), Original Screenplay, Cinematography, Editing, Original Music, Sound, Production Design, Costume Design and the Members' Choice Award for Best Film; Harrison Gilbertson won the AFI Young Actor award. It was also nominated for Best Picture, Director and Editing at the 2010 IF Awards and won Best Sound (Robert Sullivan, Liam Egan, Mark Cornish and Tony Murtagh).