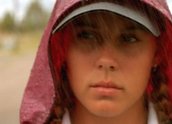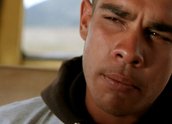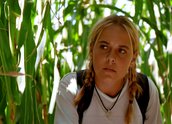 Beneath Clouds (2002)
Synopsis
A visually poetic feature film about two youths who in trying to find themselves, momentarily find each other on the road to Sydney.
Curator's notes
Beneath Clouds is an elegant piece of filmmaking, its visual strength evoking the inner world of the two teenage protagonists, both prisoners in some form or another within their environment. For Lena (Dannielle Hall), a teenager living in a small town, the feeling that she will never get out weighs her down. Setting out for Sydney to find her Irish father, Lena dreams of a place where she belongs, unimpeded by the violent benevolence of an isolated community that offers little hope of a future. Along the way, she meets Vaughn (Damian Pitt), an escapee from a juvenile detention centre, and the two are connected by the common journey – toward Sydney and the need to be unencumbered by the societal constraints.
Beneath Clouds is the first feature film of director and writer Ivan Sen. Sen is one of the many Indigenous filmmakers around at the moment offering human stories that appeal to wider audiences. While the narrative devices the director engages to communicate themes are firmly located within Indigenous sensibility and cultural perspective, the subject matter is universal. Sen deploys such cultural markers poetically. For example, Vaughn's relationship to trees, the silence they offer, engages with an Indigenous cultural relationship to land. Or when Lena realises that the misty mountains of Ireland that she dreams of escaping to, are really the misty mountains that dot her journey to Sydney; representing her own inner landscape so to speak and a cultural connection with place.
The issue of identity is fundamental to all teenagers, and Sen's two teenage protagonists are no exception. Lena is journeying away from her mother, and towards an ideal represented by her absent Irish father, while Vaughn, who is angry with his mother, is journeying towards his mother in an attempt to understand himself. The key points here are not Indigenous or non-Indigenous, for these are merely social dynamics that put the drama into context. The real issue is the idea of an ideal, a place better than here, a 'somewhere else', where the grass is greener. Sen's true accomplishment is that he manages to tell this story without denigrating the Indigenous characters or the non-Indigenous characters, nor resorting to stereotypes or oversimplification. Perhaps a consequence of Sen's earlier experience as a photographer, he manages to make his voice as transparent as possible in this drama, and gives the audience the chance to observe, interact, and relate to two Indigenous characters unimpeded by elements that could otherwise exclude a non-Indigenous audience.
Sen's other films include Tears (1998), Dust (2000), Vanish (1998), and Shifting Shelter 2 (2000). Beneath Clouds won the AFI for Best Director (Ivan Sen) and Best Cinematographer (Allan Collins). Actors Dannielle Hall and Damian Pitt – plucked from their homes of Wee Waa and Moree respectively – are both first time and untrained actors, sighted after Sen's yearlong search to find the right people to cast as Lena and Vaughn. Dannielle won the Best Female Newcomer Award at the Berlin Film Festival in 2002 for her performance. Allan Collins, the cinematographer on Beneath Clouds won the AFI for Best Cinematography and co-directed Dhakiyarr vs The King (2004).
Allan Collins is one of a group of Indigenous filmmakers to have emerged from Central Australian Aboriginal Media Association (CAAMA). CAAMA has contributed greatly to Australian cinema through the training of Indigenous film talent such as Rachel Perkins, Erica Glynn, Warwick Thornton, Beck Cole and Danielle MacLean to name a few. Read more about CAAMA at Realtime.