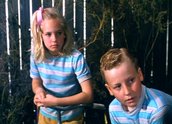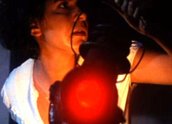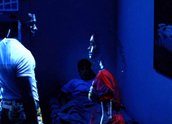 BeDevil (1993)
Synopsis
BeDevil, a trilogy of ghost stories, uses myth interwoven with living memory to evoke a sense of place. Told in three parts – 'Mr Chuck', 'Choo Choo Choo Choo', and 'Lovin' The Spin I'm In' – BeDevil exposes the blurred boundaries between the imagined and the real in constructing landscapes and a sense of belonging.
Curator's notes
The most challenging aspect of this film is also its strength. BeDevil challenges the linear time frame of Western storytelling in order to suggest the ongoing presence of entities interwoven throughout the landscape that supersede all human characters and players. Perhaps alluding to Indigenous Dreaming stories, BeDevil interrupts Western film reading tradition and as a result may alienate potential audiences. BeDevil polarised critics – some saying it is a failure, others a cinematic masterpiece.
Moffatt is credited as being the first Aboriginal woman to make a feature film, and the style of BeDevil is reminiscent of her short film Night Cries – A Rural Tragedy. Moffatt prefers to be addressed as an 'artist' rather than an 'Aboriginal artist'. Moffatt's other audiovisual work includes Heaven (1997), Lip (1999), Nice Coloured Girls (1987), and Night Cries (1990).