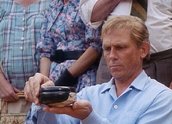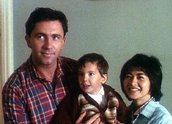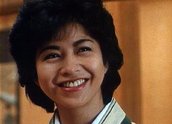 Synopsis
The story of a Japanese-Australian marriage in the aftermath of the Second World War. Aya (Eri Ishida), a young Japanese woman, lives in Melbourne with her husband Frank (Nicholas Eadie), an Australian soldier she met in Japan who served with the Occupational forces at the end of the war. By the late 1950s, they have a son, Ken (Christopher Parker). Aya gets a job in a Japanese restaurant as a waitress. Frank, a successful draughtsman, is involved in an accident and unable to work. He becomes increasingly dependent on alcohol and resentful of Aya's role as breadwinner and of her need to maintain her own culture. Ken's godfather, Mac (Chris Haywood), a fellow serviceman who played a part in Aya and Frank's courtship, sees the cracks in the marriage and tries to help where he can but the marriage continues to deteriorate.
Curator's notes
Aya and Frank met because of the Second World War and it is a key reason why Aya struggles to feel part of her new country. As she says at one point in the film, she expects to be hated, given that Australians had recently been defending the country from Japanese attack. The racism she encounters is not extreme but it is omnipresent. The film particularly explores the pressure that cultural difference can exert on a marriage. A good deal of Aya's unhappiness is due to Frank: his years in Japan were the best of his life, yet he refuses to contemplate returning with Aya and is hostile towards Japanese culture, in contrast to their friend Mac.
The film presents a realistic picture of Australian city life during the 1950s and '60s, including the roles of a husband and wife. Aya holds the family together financially and emotionally but this makes Frank feel inadequate and angry.
Aya is unusual because, unlike most postwar immigrant stories set in Australia, the central character comes from Asia. Writer-director Solrun Hoaas lived in Japan for more than a decade and her knowledge contributes to the film's authenticity. She chooses to allow many key dramatic moments to happen off screen. Another filmmaker may have chosen to exploit the drama of a wedding, Aya's first day in Australia, her first meeting with her mother-in-law, her son's birth, and so on. In contrast, Hoaas concentrates on the day-to-day life of her characters, giving the film an understated feel.
Aya was made at a time when affirmative action programs for women were in place and was financed by the AFC's Women's Film Fund. The film screened at over 30 international festivals, and was distributed in limited release by Ronin Films. Aya was nominated for six AFI Awards, notably Best Actress, and was later released on video in Japan, in 1992.
Aya serves as a dramatic companion to Green Tea and Cherry Ripe (1989), Hoass's earlier documentary about Japanese 'war brides' who married Australian servicemen after the Second World War. Hoass has since directed the documentaries, Pyongyang Diaries (1997) and Rushing to Sunshine: Seoul Diaries (2001), which examine life in the Democratic People's Republic of Korea and Republic of South Korea, respectively. She died in December 2009 and the Solrun Hoass Documentary Award was initiated in 2011 in her honour.