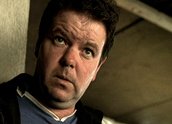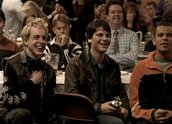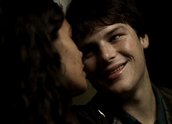 Australian Rules (2002)
Synopsis
In an isolated South Australian fishing town, the only thing that connects two communities – the whites and the blacks – is football. Gary Black (Nathan Phillips) and Dumby Red (Luke Carroll) are an exception – teenage best friends from different sides of the tracks. Dumby is the star of the football team and likely to become the next big Aboriginal star in the big leagues. Gary is the bookish son of a hard-drinking and brutal white fisherman, Bob Black (Simon Westaway). He is attracted to Dumby's beautiful sister, Clarence (Lisa Flanagan). When their team wins the premiership, Dumby's elation is short-lived. He is passed over for the Best-on-ground prize, setting off a chain of events that ends in tragedy.
Curator's notes
Australian Rules is based on an acclaimed 'novel for young adults' called Deadly, Unna? by Phillip Gwynne, who grew up in Port Victoria, a town not unlike the fictional Prospect Bay, the setting for this story. Much of the story is autobiographical, which is an important point, given the controversy that surrounds the film. The movie was commissioned by the Adelaide Arts Festival, but then attacked by prominent Aboriginal activist David Wilson, a former script consultant to the festival, who charged that it was made without proper consultation with the Aboriginal community in Port Pearce, near Port Victoria. Wilson said that the film used racist language and would reignite painful memories for the families of two black men shot dead by a white publican in Port Victoria in 1977. The two men were among a large group of Aboriginal men who were attempting to rob the local hotel. Gwynne has acknowledged that his story was 'loosely related' to that incident, but that his story also has significant differences. For instance, the character of Dumby Red was based on his best friend when he was growing up, an aboriginal man who's still alive.
The controversy was quite heated in 2002, as the movie went into release, and confronting for the white filmmakers, who thought they were making a film about the effects of racism in Australia. Wilson contended they had no right to tell what he claimed was an Aboriginal story – even if fictionalised. That argument has larger implications, especially for writers and film-makers (see Romaine Moreton's comments on this site about the Chant of Jimmie Blacksmith as an example). Many significant Australian films are based loosely on real incidents involving aborigines – Wilson's argument would presumably regard most of them as illegitimate. Writers such as Gwynne regard that argument as a form of censorship. Some Aboriginal writers and artists agree. Lisa Flanagan, who plays Clarence in the film, was outspoken on her opposition to Wilson's argument at the time of the controversy. There is however a strong residual anger amongst many Aborigines that stories they reverence are still being appropriated, without proper consultation by white artists. There is plenty of room for debate about whether this film is an example of that. However the filmmakers did eventually make an effort to consult with the community and the specific families involved.
Secondary curator's notes
by
Romaine Moreton
Australian Rules tells the story of racial tension in a small fictitious town in South Australia called Prospect Bay. The central character of the story is Blacky (Nathan Phillips), a young white man who is dominated by his violent father (Simon Westaway). According to the filmmakers this is a story about racism, and indeed it is. Unfortunately, in Australian Rules, as in many other films about racism, in order to tell a story about prejudice it is the Indigenous characters who service this narrative – but would we have a story about racism if this were not the case (see Whiteys Like Us to see how racism is discussed within an all white group). As an audience, we are subject to derogatory references to Indigenous peoples and especially Indigenous women. It is the relationship between the two best friends though – Blacky and Dumby (Luke Carroll) – that offers some reprieve from this.
According to the director Paul Goldman, interviewed on Channel Nine's Sunday program, 'The film's about courage, so it's about physical courage and moral courage and so that was really the prism for all those issues. I mean, the film certainly engages in, in some discussion about race and about bigotry but it also … it's there's a lot of other things that happen in the film … '. The argument put forward by a member of the Point Pearce community David Wilson that this is an Aboriginal story is one that is open to ongoing debate. The narrative structure of the film certainly makes this a non-Indigenous film in that it is a white protagonist's story with the Indigenous characters peripheral to the emotional journey of Blacky, who eventually finds the courage to face his controlling father. In order to make this an Aboriginal story it would have to be made as a different film altogether – and potentially it could have been. However due to the shallow treatment of the Indigenous content in Australian Rules, the Indigenous characters present as merely props in a film that discusses racism. One could argue that, because of this, Australian Rules perpetuates the very thing it wishes to assess critically.