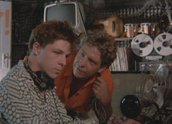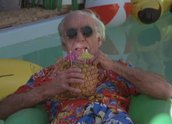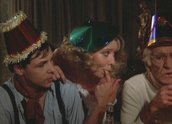 Around the World in 80 Ways (1986)
Synopsis
Senile and almost blind, Roly Davis (Allan Penney) is aghast when he discovers wife Mavis Davis (Diana Davidson) has embarked on a round-the-world holiday with his next-door neighbour and business rival Alec Moffatt (Rob Steele). Roly's sons, Wally (Philip Quast), a struggling tourism entrepreneur, and Eddie (Kelly Dingwall), an unemployed sound technician, come up with a plan to 'send' their father overseas in pursuit of Mavis. With the help of nurse Ophelia Cox (Gosia Dobrowolska), Wally and Eddie use their family home and Moffatt's gaudy mansion to produce fake versions of Honolulu, Las Vegas, Rome and Tokyo. As Roly's 'tour' continues, Eddie and Ophelia fall in love.
Curator's notes
The Australian comedy Around the World in 80 Ways was the sole feature directed by Stephen MacLean (1950–2006). MacLean wrote the screenplay of Gillian Armstrong's musical-romance Starstruck (1982) and brought a similar madcap energy and eccentricity to this tale of a man who goes around the world without leaving home. The film's basic plot about creating a fake reality for an elderly person bears a strong resemblance to the German hit Good Bye Lenin! (2003), in which a son recreates bygone communist East Berlin for his mother, and the 2007 Mexican film Nonna's Trip, in which a family fakes a trip to Italy to fulfil their matriarch's dying wish of visiting her late husband's home town.
MacLean's script was inspired by an old man he remembered from childhood. In David Stratton's book The Avocado Plantation (1990, Pan Macmillan) MacLean recalls, 'He was a little bit senile. My mother used to visit him. He always wanted to bet on horses, so she'd pretend to ring up the TAB [betting agency]. Sometimes he'd think he won a lot of money but later he'd forget about it. Then he wanted to go away on a trip and I thought, "You could really do it here, at home." And the idea for the film just grew from that.'
For the role of Roly Davis, MacLean turned to veteran character actor Allan Penney. In the most substantial role of his career, Penney is a delight as the oldster who gains a new lease on life and recovers much of his diminished mental capacities during his bogus globe-trotting adventure. The warmth in MacLean's screenplay extends to all characters, with the appropriate exceptions of snooty Dr Proctor and Alec Moffatt, the nasty neighbour whose tastelessly decorated mansion provides the perfect settings for Wally and Eddie's mock-up versions of Las Vegas, Rome and Tokyo.
The main trio played by Philip Quast, Kelly Dingwall (son of Australian filmmaker John Dingwall) and Gosia Dobrowolska enter into the spirit of things with zesty performances evoking classic French farce, British Ealing comedies of the '50s (see clip one), and a touch of Carry On and Benny Hill humour in the naming of characters including Ophelia Cox. An offbeat and highly successful casting choice was Dobrowolska. A Polish migrant who'd starred in the gritty drama Silver City (1984), Dobrowolska brings an innocently sexy European zing to her role as the nurse who escapes dreadful fiancé Proctor for fun and romance with Eddie. Though never stated, it's pretty obvious Wally is gay and makes us wonder how the film might have fared had it been made, with a few script tweaks, in the more liberated '90s alongside The Adventures of Priscilla, Queen of the Desert (1994).
As with Aussie comedies such as Priscilla, Starstruck (1982) and Strictly Ballroom (1992), Around the World in 80 Ways is packed with kitschy décor – Lissa Coote's production design is terrific – and colourful characters as it cuts between Roly's faked adventure and the real overseas holiday of Mavis and Alec – all of which was filmed in Australia, minus stock footage of cityscapes. The result is an original and imaginative farce which pokes gentle fun at Australians as tourists (see clip three) while creating a funny and warm-hearted look at how a father and his distant sons grow close again through the most unusual of means.
That Around the World in 80 Ways is not better known can be attributed at least partly to its troubled distribution history. Completed in 1986, it was first released in March 1988 in the US before a small rollout in Australian cinemas later that year. Its only home video release to date is on VHS and laserdisc in the US.