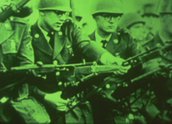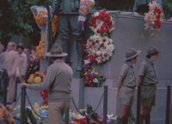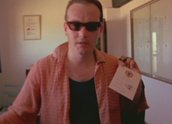 Against the Grain: More Meat than Wheat (1980)
Synopsis
Urban terrorist Ray Unit (Michael Callaghan) plants a smoke bomb at the Martin Place cenotaph in Sydney on Anzac Day. Travelling in disguise, Ray visits his mother, Elsie (Joy Burns), and family in suburban Perth. He discusses the predatory nature of photography with Paula (Sandy Edwards) at Cottesloe Beach before heading to rural Western Australia. Spending time among sheep farmers and wheat growers, Ray applies for political asylum in Hutt River Province, a self-declared autonomous state run by Prince Leonard (Leonard Casley). Ray's every move is tracked by electronic surveillance. An unseen voice of authority guides the investigation while delivering instructions to his underlings on the best means of dealing with Ray and the beliefs he holds.
Curator's notes
Against the Grain: More Meat than Wheat is a provocative, semi-narrative experimental film in which the central character of Ray Unit acts as a conduit for opinions on hot button topics of the day, such as uranium exports and woodchipping, while he moves through the big picture landscape of issues including national security, personal freedom and state control of individuals and the media. Opening with voice-over narration quoting Jean Genet's essay 'Violence and Brutality' (1977) over images of Ray Unit and his collaborators constructing a bomb (see clip one), filmmaker Tim Burns later includes excerpts from The Rebel (1951) by Albert Camus, 'The Left and Terrorism' (1978) by Andrew Mack and several other polemical pieces to show how such thoughts and theories might influence someone like Ray and inspire him to take action in Australia in 1980.
Well educated and from a middle-class Perth family, Ray is a mass of contradictions. His egotism and obsession with his own image are at odds with the classic picture of a committed revolutionary who strips individualism away to fight for the collective cause of overthrowing the ruling order. He is an intriguing character whose conversations with many of the people he meets are intended to make us stop and think about how news and information is selected (and deselected) and reported by the mass media. With the all-seeing government agency recording Ray's movements (the title of the film is the code name given to Ray's surveillance) and deliberating carefully on how to maximise its advantage when deciding to expose him (see clip three), there is also an element of the political paranoia thriller at play here.
Multimedia artist Tim Burns – not to be confused with the Mad Max (1979) actor – is an intriguing, singular Australian filmmaker. Still active in many media, Burns's experimental, politically-charged films of the '70s and '80s – notably this title and the prophetic Super 8 documentary Why Cars? CARnage! (1978) – stand at the forefront of radical Australian cinema. Burns's tone and technique bear some resemblance to films made by the Dziga Vertov Group, a left-wing collective (Jean-Luc Godard was a founding member) that produced works such as British Sounds (1969), Wind from the East (1969) and Letter to Jane (1972). Ray's discussion with Paula (well-known Perth photographer Sandy Edwards) about the nature of the photographic act and what can be interpreted from an image is reminiscent of Letter to Jane, a 52-minute deconstruction of a single photograph of Jane Fonda in Vietnam.
Like most radical political films, Against the Grain: More Meat than Wheat is not for everyone. Historical footage of the Second World War and very strong images from Santiago Álvarez's riveting 1969 short film 79 Springtimes of Ho Chi Minh (in which Álvarez physically sliced 16mm footage and refilmed it) are very confronting, and the general tone of the film could be interpreted by some viewers as an endorsement of violent protest action. Although there are arguably too many ideas crammed into the brief running time, Against the Grain: More Meat than Wheat is never less than compelling and challenging. One of its most interesting and prophetic elements is its vision of surveillance. What must have seemed like science-fiction movie-like monitoring of Ray in 1980 is now an everyday reality in most big cities in the developed world where thousands of cameras track human movement.
Against the Grain: More Meat than Wheat was not formally released in Australian cinemas. It was distributed by the AFI.