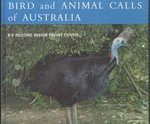 Bird and Animal Calls of Australia (1968)
Synopsis
This title features 25 tracks of Australian bird and animal calls recorded by filmmaker and photographer Harold J (John) Pollock. Each track is preceded by a spoken identification of the name of the bird or animal. The 7" disc released in 1968 came inside the cover of a 24-page booklet with detailed information and photographs of each bird and animal. It is one of a small number of commercially released recordings of Australian wildlife.
Curator's notes
'In fifty years time, my films may be the only life history record of the animal concerned', states Pollock presciently in correspondence held by the National Film and Sound Archive. This particular disc fulfils that prediction as some of the animals and birds whose calls and songs were recorded over 40 years ago are now considered vulnerable in specific habitats or even endangered. The scientific significance of Pollock's work is emphasised by ornithologist and editor-in-chief of the Australian Encyclopaedia, Alec H Chisholm, in the foreword of the booklet accompanying the disc. He summarises the achievements of the New Zealand-born Pollock in strengthening the work of Australian naturalists with his films and sound recordings of Australian fauna.
In the booklet Pollock detailed his recording process. His choice of equipment was made by balancing quality with portability out in the field. He used a German Uher 4000 Report 3 tape recorder and recommended getting the microphone as close as possible to the bird or animal, which entailed certain preparatory work. Pollock would carefully plot a bird's favourite singing perch and set up the microphone a few feet from the perch with 50 yards of shielded cable. He advised the careful documentation of the process by recording such details as the locality, time of day, date as well as the name of the bird or animal.
Listening to the tracks is an amazing experience because of the variety and expressiveness of the sounds. For example, Pollock describes the bush curlew's call as 'one of the most unusual and eerie in all nature' and he believes that the brolga's long windpipe 'enables it to produce its long trumpeting sounds which may be heard over a mile away'.
As well as a large number of film titles about Australian wildlife, Pollock, who died in 1990, also released other sound recordings such as Menura, the Lyrebird, Voices of the Australian Bush, Bird and Mammal Calls of Australia and Wonder Birds of Australia and Their Calls (all 1979).