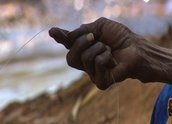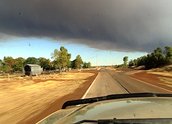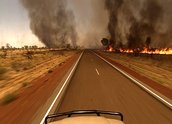 Loved Up – Yellow Fella (2005)
Synopsis
A documentary narrated by Tommy E Lewis, intercut with historical footage, tells of the journey of Tommy E Lewis to find the grave of his white father.
Curator's notes
Yellow Fella Is a moving story about a man's quest to find the father he never really knew. It is a generous and honest invitation extended to the audience by Tommy E Lewis who invites us on the journey to find the grave of his biological father. Lewis is driven by a sense of reciprocity, a passage into wholeness he hopes finding his father's burial place will bring. Raised by his stepfather, there is spiritual intensity motivating Lewis to find where his father is buried.
Tommy E Lewis gives us a context to his experience of being a child of mixed heritage, straddling both Indigenous and non-Indigenous cultures and on this sojourn negotiates his own personal yearning to belong. The core themes that emerge from Lewis's questioning are the presence of a central truth that defies culture and race. Though Lewis identifies as a 'yellow fella' – both black and white – his belief in his Indigenous cultural beliefs is resolute, and his acknowledgement of his white father unwavering.
Lewis is an Indigenous star of the stage and screen, having appeared in films such as The Chant of Jimmy Blacksmith (1978), We of the Never Never (1982) and more recently The Proposition (2005) and Crocodile Dreaming (2006) by Indigenous filmmaker Darlene Johnson. Yellow Fella was nominated for a Cannes Film Festival Award in 2005 screening in 'Un Certain Regard', a program which features films that express a personal vision of the filmmaker with an emphasis on cultural expression and innovation. In 2006, actor, musician and artistic director Tommy E Lewis was awarded the Red Ochre Award by the Aboriginal and Torres Strait Islander Board of the Australia Council for the Arts.