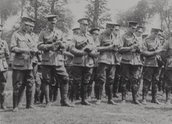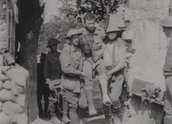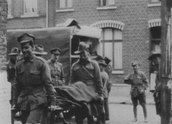 With the Australians in France 1916 (c.1917)
Synopsis
The film documents Australian troops, and some New Zealanders, during their first few months in action on the Western Front in the First World War. The locations include Pozières, shortly after the Australians endured their most difficult battle to that point, and various positions further north near Messines and Armentières. The scenes were shot by British cameramen on loan, under the supervision of the official Australian war correspondent (and later historian), CEW (Charles) Bean.
Scenes include New Zealand soldiers relaxing in a town, West Australians of the 11th Battalion on the march, others training for smoke attacks, wounded soldiers being brought to Bécourt dressing station during the battle for the Somme, devastated landscapes around Pozières and Mouquet Farm where the Anzac soldiers had endured the heaviest fighting to that date (in July and August 1916), artillery batteries at work (both 12- and 18-pounders), artillery batteries on the move, a religious service, General Sir William Birdwood meeting the Australian Prime Minister WM (Billy) Hughes, Maori soldiers winning a tree-felling contest, German shelling of British positions near Pozières, German prisoners and captured German trenches, Australian soldiers wearing captured and souvenired German helmets, scenes inside a British military hospital and a soldier's funeral in the field.
Curator's notes
This is a significant Australian film, both for what it shows and what it doesn't. It represents an enduring mystery, because what survives is more likely the battered remains of a film, rather than the film itself. The Australian War Memorial holds two films dealing with the Battle of Pozières in 1916 – one of the most significant of the First World War for Australians. This appears to be the lesser of the two, the one that the official Australian war correspondent (and later the official historian), CEW (Charles) Bean called '2000 feet of miscellaneous rubbish'. The other, Australia in France, Part One (c1918), appears to be his attempt to reconstruct it.
The Australian War Memorial allocates catalogue numbers to all its assets. Australia in France, Part One is AWM F00047, With the Australians in France 1916 is AWM F00050. Both films comprise footage shot by the British cameramen on loan to Bean, in the summer of 1916. This was during and just before the first Battle of the Somme, which began infamously on 1 July with almost 60,000 British casualties – the bloodiest day in British Army history.
The Australians did not join the battle until later in July but the first Australian attacks on the Western Front, on July 19 and 20 at Fromelles, and then at Pozières village from 22–23 July, unleashed a terrible phase unlike anything the Australians had seen before. In less than seven weeks, the AIF at Pozières lost 23,000 men, killed or wounded. Bean would witness a lot of this fighting himself. He wrote later that the Windmill site (just north of Pozières) 'marks a ridge more densely sown with Australian sacrifice than any other place on earth' (see Anzac to Amiens, Australian War Memorial, 1961, p 264).
Bean was determined to document this sacrifice, which he felt the British generals did not fully comprehend, because they had not visited the trenches as he had. That is why he borrowed the British cameramen and devoted considerable energy to the film. Unfortunately, the film was not completed as he intended, for reasons that are still unclear.
Bean first viewed the final film in January 1918 during leave in London, 18 months after it had been shot. Copies had already been sent to Australia, and he was horrified by what he saw. He had supervised the editing and left clear instructions for the titles during a visit in January 1917. These had been ignored. 'They slung together old scraps of film – tags cut off their film and not wanted', Bean wrote in 1928 as a diary addendum (AWM38,3DRL606/69/1, opposite p 9). '(They) put their own senseless titles on them; and sent their preposterous product to Australia … It was gross carelessness – or rather indifference to our needs and claims.' When he discovered what had happened, he wrote in his diary, 'The whole of our Pozières cinema work has gone for nothing thanks to these British and their private enterprise' (AWM38,3DRL606/96/1, pp 25-28, 14 January 1918). He continued:
It cost one the whole of a visit to London, working hard. We got together a fine film of all the pictures MacDowell and others had taken with me at Fleurbaix (Fromelles) and Pozières – pieced it together in order and made a thoroughly true interesting story of the Australians in France. I saw it run off (with a flash where the titles were to be – and left these to be put in – Smart (HC Smart, Controller of the Australian Military Office in London) was told that the film was simply being held back for this. He did not come down and see it for himself.
It was a blow to find that the film which was sent out, as the result, had no relation whatever to the finished film I left – neither the arrangement nor the titles had any connection whatever with the film which I had put together. A few lengths of the film I left were scattered at random through the miserable production on the screen – with fancy titles without sense or truth. I couldn't believe this was the film in question – it seemed impossible but it was the film, we found. Jury, who was responsible for it, was knighted for his other great services on Jan 1st.
William F Jury was a major force in distribution and film exhibition in England before and during the war. He was also the trade representative on the War Office Cinematograph Committee, which presided from November 1916 over the official filming activities of the British war cameramen. In 1918, he would become the head of the new Cinematograph Department of the newly formed British Ministry of Information. In effect, according to the Imperial War Museum, Jury became the head of film propaganda, in a ministry headed by Sir Max Aitken (the future Lord Beaverbrook, a Canadian-born press baron).
When Bean cut and titled his Pozières film in January 1917, he did it through Jury's Imperial Pictures and he would hold Jury personally responsible for what happened to it. 'Jury let us down hopelessly', he wrote in the 1928 addendum to his diary. But what did happen? Did Jury's company recut and retitle the film on purpose or did they lose the original that Bean says was almost complete when he left to return to the front in January 1917? Bean uses the word 'lost' in a later mention of the film. 'Jury's have found one part of that lost film,' he wrote in his diary for 18 January 1918. 'They rang me to see it. Before I saw it, Jury – Sir William – had me in and tried to get me to say it wasn't their fault. I wouldn't do this. I fancy he has just an idea that there may be trouble ahead.'
Bean seems to have decided to take this matter further, but what he did is unknown. Jury's position on the War Office Committee and his later position in the ministry raises another possibility – that the film was doctored deliberately, for some official reason. It seems unlikely because Bean doesn't raise that thought – he suspects more base motives: 'these British and their private enterprise'. Jury had a financial interest after the war in many of these wartime films: he was granted exclusive distribution rights. He is credited as producer of The Battle of the Somme (1916), which was the most successful film of the war – with 20 million tickets sold in the UK in its first six weeks in distribution (from late August 1916). The Australian government had to pay for these films – Bean quotes a rate of 4½ pence per foot, for eight copies, each of 2000 feet, in this case. Did that money go to Jury's company directly? Is this what he meant by his comment about British private enterprise? He infers that Jury made money by not finishing the film as Bean had intended it, but how? If it was almost complete when Bean left, it would have cost Jury more to recut and retitle it.
The answer may be the simpler one: that Jury lost the original film, or large parts of it, so he cobbled something together and sent it to Australia with his own version of the original titles, rather than go to the expense and embarrassment of telling Bean what had happened and asking him to return and reconstruct the film. Bean may simply have meant that the production of such important historical films should never have been entrusted to private film businessmen such as Jury.
Jury's office soon found several parts of the 'lost' film, once Bean protested. Bean writes in Diary 97 (in a letter dated 6 February 1918, p 18), that he intends to 'retitle the film from my old titles and drag together the negative', as soon as the official Australian photographer, George Hubert Wilkins, can come across from France to assist. The German spring offensive of 1918 appears to have delayed that reconstruction, but the AWM holds what appears to be the film Bean wanted to make: Australia in France, Part One (AWM F00047). It runs longer than this film by 13 minutes and its titles more closely match what appear to be the original draft plans that Bean wrote in his diary in January 1917.
Letters from Bean, held at the Australian War Memorial (file AWM38 3DRL/6673 781, not online) indicate that Wilkins was engaged to go to Melbourne in 1920 for eight days work on film and photographs for the Australian War Museum (as it was then called). He provided titles for what were described as 'the Pozières and 1918 films'. Bean wrote in a letter to John Treloar, head of the Australian War Records Section, that one of Wilkins's tasks should be to 'cut the Pozières film', but we don't know if he did this, as he cut short the eight days. The work he did was almost certainly supervised, or scrutinised, by Bean himself. This work is the most likely clue to the origins of Australia in France, Part One (AWM F00047).
By the time he saw it, With the Australians in France 1916 had already been shown in Australia. It was reviewed in The Sydney Morning Herald in July 1917. The description matches scenes that are in this film. It can only be the Jury version, because Bean did not discover the 'botched' version until six months later, in London. The third reel of the film has a completely different style of titles to the first two which may support Bean's complaint – that it was put together from other bits of film, with 'no single title that bore any relation to the ones we had settled, in no sort of order… without the faintest attempt of any sort at any comprehensible sequence of ideas' (the letter of 6 February, in Diary 97).
If this is the unreconstructed Jury version, then the titles must be suspect, but it is possible now to identify some of the shots from other records, some of which confirm the titles. The AWM holds a number of still photographs taken at the same places and times as some of the cine film – and those photos were usually reliably captioned by Bean himself. We also have Bean's notes on the film he wanted to make and his selection of shots from other British cameramen – notably Geoffrey Malins and John MacDowell, the two men who shot The Battle of the Somme (1916). Bean's notes make the likely sources of some of the shots clearer – although not conclusive. Taken together, it is now possible to read the film more closely and identify some of what it shows with reasonable certainty. This makes it more useful than Bean ever acknowledged and more historically significant. It may not be the film he intended, but it is still a valuable record of one of the most turbulent and difficult periods of the Great War, especially for the Anzacs.
The shots of Pozières, which was still being shelled by German artillery, are particularly valuable for an Australian audience, given the significance of that battlefield. The scenes of a Casualty Clearing Station at Bécourt Château, treating real wounded from Pozières, are similarly valuable. The scenes in an operating theatre may even show the treatment of wounded from the Battle of Fromelles (see clip three).
By November 1916, Bean had secured Australia's first official war photographer, with the help of his friend Smart. Herbert Baldwin arrived from England in late November and went straight to work following Bean around the muddy trenches of northern France and Belgium (see The Australians at Messines, 1917). Bean would never again have to rely on borrowed cameramen from the British General Headquarters.
Ian Jackson, a curator of photographs at the Australian War Memorial, writes:
I think that the significance of Bean's comments about private enterprise can be found in his belief in the near-sacred importance of war records, including this film: that they were simply too important to be left to the care of the film companies. In this sense there is no need necessarily to ascribe any particularly sinister motives to Jury or to take completely at face value Bean's criticisms of him. For Bean the record value of the film exceeded any commercial value it might have. Indeed, for Bean, historical record considerations and commercial considerations were directly antithetical: anything Jury did to make a commercially successful film was likely to fall foul of Bean's concerns with an accurate historical record. The important thing here is that Bean was setting up an organisation designed to put all Australian film, photography and record-keeping under the supervision of a public agency (the Australian War Records Service) which was structured in a way that put the historical record at the forefront and any commercial considerations as very much secondary.
Jackson is not convinced that Jury's office even lost the original film:
The problem is that Bean, who is the person whose word we have to take, is very vague about what exactly was wrong with this film. At times he implies large parts of footage are missing, but at others that it was more that it was 'jumbled' out of sequence and that he objected to the titles. I think it is just as likely that the working conditions at Jury's company were simply not such as to maintain an intact archival copy of any film – that sections of different negatives were routinely reused in other films as depicting other events, and so that over time the material became dispersed into other productions and that sequences from other films were edited into this film as well. This would seem to fit with the way stray footage has crept into many of the other films. Indeed, it is not so different to the way that some TV companies still edit together random old bits of footage they have lying around any time they want to cover a First World War topic they want to cover on the news or in a documentary. In this case the term 'lost' doesn't seem right as it implies an inadvertent mistake or oversight – I am wondering if it was actually just normal industry practice, and Bean, as an industry outsider, was just unusual in objecting to it.