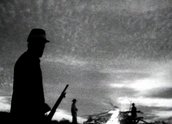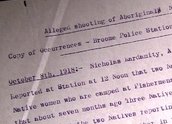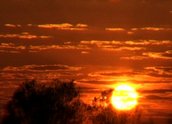 Whispering in Our Hearts (2001)
Synopsis
A documentary depicting the 1918 massacre of Aboriginal people at Mowla Bluff, Western Australia. The story of the massacre is told in interviews with surviving Nyikina, Mangala and Karajarri peoples, as well as through dramatised reenactments of the testimonials of Aboriginal witnesses.
Curator's notes
This documentary is a good example of the clash between Indigenous oral history and Western written history. Official records of the police administration show that an investigation into native witness accounts of the massacre found no evidential foundation and therefore concluded it did not occur, contradicting the surviving oral accounts of Indigenous peoples. This documentary shows the disparity that exists between Indigenous and non-Indigenous versions of Australian history. The clash of historical truth is very much the difference between what has been written down versus that which has been remembered through oral story telling, passed on down the generations by Indigenous peoples. Whispering in Our Hearts resonates with the philosophy of remembrance and the need to understand in the attempt to overcome the atrocities inflicted upon Aboriginal people, in this case, healing from massacre.
The film is written by Mitch Torres: filmmaker, actress and journalist. Mitch Torres is a committed filmmaker, and her works show great depth and integrity in speaking on behalf of Indigenous peoples long denied a voice in Australian history. Mitch's other film work includes: The Healing Sounds of the Bungarun Orchestra and Case 442 (2005). Mitch has also acted in the following films: The Fringe Dwellers (1986), Babaquieria, Slate Wyn and Me (1987), Emerald City (1989), Tudawali (1987) and the Coolbaroo Club (1996). A theatre production written by Mitch is One Day in '67, based on her family's experience of the 1967 Referendum, when Aboriginal people were given the right to vote.