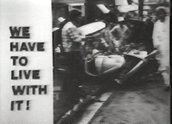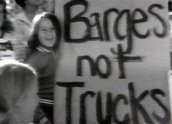 We Have To Live With It (1974)
Synopsis
A community video made by Tom Zubrycki and the residents of Balmain and Rozelle that documents concerns held by residents and local businesses about the impact of an existing port terminal on their community.
Residents give their perspectives on the issues of noise, pollution and safety which arise from trucks laden with shipping containers rolling down Mort Street, Balmain towards the terminal. The community's protests and lobbying efforts are also recorded.
Curator's notes
This was Tom Zubrycki's first foray into filmmaking (he started out studying sociology at the University of New South Wales), and it reflects his interest in social issues and community groups that continued throughout his career. We Have to Live with It was filmed over three days, with an analogue video portapak, in collaboration with the residents of Balmain and Rozelle (where Zubrycki was living at the time) who were trying to get a port terminal closed. The terminal meant that shipping containers were trucked through Mort Street in Balmain and, aside from the noise and pollution problems, also caused a number of accidents and a fatality.
Following the course of events as they unfold, the video builds layers of perspective from the residents, set against the constant noisy backdrop of trucks moving shipping containers down to the docks. It employs the use of still or freeze frames, graphics and newspaper articles which effectively contribute to further dramatising events. A rough-cut was screened to locals at the town hall, which fostered debate on the issue. The video was also played at a meeting between residents and the Minister for Transport Charles Jones and was a significant addition to the residents' cause. The container terminal at Balmain was closed within a year of the screenings. This immediate impact demonstrates the power that advocacy videos such as this can have and the positive potential for video as a grass-roots artform.
Tom Zubrycki became involved with the community video movement that developed in Sydney and Melbourne during the 1970s. Zubrycki got his first chance to experiment with new portable video technology and its social and political application through the Paddington Video Access Centre (now Metro Screen) in Sydney, where filmmakers were encouraged to explore and experiment. The Paddington Video Access Centre was one of many such centres set up across the country in the early 1970s under the Whitlam Government. Modelled on the Canadian Film Board's Challenge for Change Program, they recognised portable videotape camera-recorders as a powerful tool to engage with social issues and enable social change.
Zubrycki's commitment to his subjects and their stories that has been a common thread in his work over the subsequent years can be seen in these early days working with video. The limits of the new video technology and his desire to reach wider audiences ultimately forced Zubrycki to switch to feature-length documentaries, that could reach a cinema or television audience, but the immediacy and intimacy evident in these short video works still convey a power and purpose over thirty years on.
Other videos that covered issues of urban redevelopment and the impact on working class residents include Fig Street Fiasco and The Inner City Tape, also made in 1974. Zubrycki also examined issues affecting marginalised youth such as homelessness and access to education (see Addison Road Drop In [1977] and Collingwood Community School [1975]).
Portable black-and-white video technology (video portapaks) was first developed in 1965 by Sony in the USA and trickled into Australia in the early 1970s. However, this early analog video format has not fared well over the years. Due to tape deterioration, there are some drop-outs in this video which appear as white lines across the image.