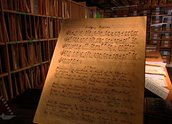 National Treasures – 'Waltzing Matilda' Song Sheet (2004)
Synopsis
Most Australians know that Banjo Paterson wrote the lyrics to 'Waltzing Matilda' but who wrote the music? And what does it have to do with a rather oddly titled song called 'Go to the Devil and Shake Yourself'?
Curator's notes
Warren Brown tracks down the original handwritten score for 'Waltzing Matilda' at the National Library of Australia, where curator Robyn Holmes reveals the story behind the chance collaboration that created our national song.
This is an episode from the first series of National Treasures, hosted by political cartoonist, columnist and history 'tragic' Warren Brown. Brown draws on a fascinating mix of national treasures from public and private collections to give a snapshot of an historic moment and illustrate the uniqueness of the Australian experience.
The ABC broadcast National Treasures in 2004.