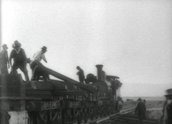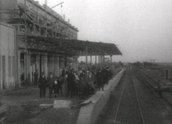 Across the Trans-continental Railway: From Kalgoorlie to Port Augusta (c.1917)
Synopsis
This documentary details part of the building of the trans-continental railway from Port Augusta to Kalgoorlie.
Curator's notes
Across the Trans-continental Railway is held in an incomplete form at the National Film and Sound Archive. The first half of the film print comprises titles and intertitles only, and the visual footage that follows refers to some, but not all, of these intertitles. It is therefore difficult to identify segments of this documentary and where they were filmed. With much early Australian cinema, only fragments or incomplete versions have survived. What survives, however, remains valuable and the seventeen minutes of surviving footage in this documentary provides a visual record of one of the country's largest infrastructure projects.
The trans-continental railway (which began construction in 1912) linked the eastern and western parts of the country with the cost of construction at around ₤6.5 million. Intertitles explain that the project employed 3,000 men in the construction; that it connected 1,600 miles (over 2,500 kilometres) of eastern States with 3,400 miles (over 5,400 kilometres) of western States; and that it carried out construction from both ends simultaneously.
The 35mm nitrate negative held at the NFSA is one of many found during the 'Last Film Search', which became operational in 1982.