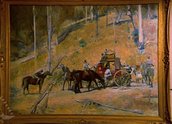 National Treasures – Tom Roberts's 'Bailed Up' (2004)
Synopsis
With its revolutionary approach to depicting the landscape and light, Tom Roberts's Bailed Up is a painting that helped define Australia's national identity.
Curator's notes
Bailed Up is one of Australia's most famous paintings, beautifully capturing the Australian light and bush landscape in a scene that echoes back to the mythology of the bushrangers.
Warren Brown speaks to curator Barry Pearce of the Art Gallery of New South Wales and ponders the extraordinary lengths to which Roberts went to complete his famous artwork and how close we once came to losing this national treasure.
This is an episode from the first series of National Treasures, hosted by political cartoonist, columnist and history 'tragic' Warren Brown. Brown draws on a fascinating mix of national treasures from public and private collections to give a snapshot of an historic moment and illustrate the uniqueness of the Australian experience.
The ABC broadcast National Treasures in 2004.