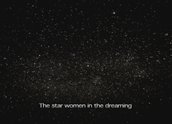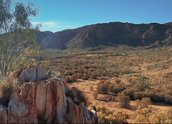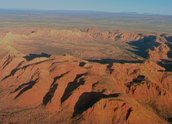 Tnorala: Baby Falling (2007)
Synopsis
Tnorala records an ancient central Australian Dreaming story about the formation of a large meteorite crater at Gosses Bluff or 'Tnorala', 175 kilometres west of Alice Springs in the Northern Territory.
Curator's notes
Tnorala provides a fine example of the insight gained by facilitating Aboriginal self-representation and enabling Aboriginal people to tell their own stories, in their own languages about their own country. This and similar CAAMA productions (Snake Dreaming, 2002; Warren H Williams, the stories, the songs, 2004; Bungalung: A Dreaming of Cannibals, 2007; and Willaberta Jack, 2007) record a cultural heritage of both national and international significance.
Mavis Malbunka, a Western Arrernte elder, has custodial responsibility as a storyteller for the Tnorala Dreaming and identifies her husband as a traditional owner of the site. The use of the Arrernte language to tell the story enables the film to convey cultural nuances, otherwise lost in translation. This gives those with an intimate knowledge of the culture and language access to a deeper level of insight into the story.
Tnorala holds the memory of important sites in the land and night sky and tells of a sequence of events that led to the creation of the site. Through this Dreaming story the people maintain an ongoing connection to their country.
Director and cinematographer Warwick Thornton provides the space for the Arrernte landscape and night sky to display its power and glory. This imagery highlights the interconnectedness of everything in the Aboriginal cosmology. The film illustrates the stunning beauty of the central desert: spectacular colours, majestic land formations and the overwhelming presence of natural forces. This dramatic portrayal of the landscape, combined with a soundtrack of traditional songs for the site, conveys the power of this Dreaming story.
Tnorala offers its audience a glimpse into an Aboriginal way of seeing and understanding the natural world. The program was broadcast on Imparja Television in 2007 as part of the Nganampa Anwernekenhe series and also screened in 2008 at the Indigenous Film and Arts Festival, Denver and at the Garma Festival in Arnhem Land, NT.