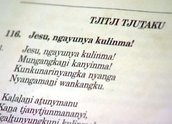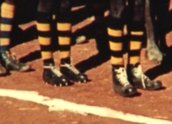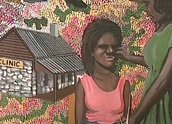 Time Bomb (2003)
Synopsis
A documentary about Frank Djara and his work as a men's health consultant in Areyonga. Frank also talks about how diabetes has affected his life.
Curator's notes
The title of this documentary, Time Bomb, is how Frank Djara refers to living with diabetes. Frank Djara was the first male health worker in Areyonga, and was hired to work with Indigenous men. Previously there had been women health workers only, which made it uncomfortable for men to confide their health problems. The language barrier also posed a problem, and consultations between Indigenous male patients and white doctors were problematic. Time Bomb presents as a documentary about a man's life experience, but as the film progresses, the deeper meaning of Frank Djara's life experience bubbles to the surface.
Time Bomb communicates to the Indigenous community the importance of treating diabetes, especially if one or both parents is afflicted with it. Time Bomb is challenging to watch as it deals with health issues. Frank Djara is very generous in sharing his experience, but also very strong in promoting the importance of looking after one's self. Frank would eventually lose both his legs below the knees to diabetes, and the consequence of neglecting diabetes is powerfully communicated during these sequences.
The Nganampa Anwernhenkene series allows the subject's voice to set the tone of the film and, in Time Bomb, Frank Djara's life story sets up the eventual health-related focus of the film. These are serious issues that are being presented, and the simplicity of the film is in how it sets up these issues visually by use of shots of country. The audience gets a sense of remoteness so that when we are in the city clinics, the tension between Western and Indigenous cultures is immediately apparent. It is these tensions that Indigenous patients and health workers alike must negotiate in order for health care to be administered.