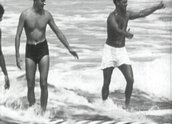 Thrill of the Surf (1949)
Synopsis
This documentary featurette shows typical scenes on Australia's beaches and features the events and activities of a surfing carnival at Sydney's Bondi Beach. An introductory text situates Australian beach culture amongst the 'sun worshippers' of 'hot summers', golden sands and the 'great outdoors'. The rest of the film shows beach crowds, a lifeguard procession, surfers and a surfing competition, and a demonstration of lifesaving rescue boats in the water. It includes a lively commentary by John Moyes and an accompanying instrumental score.
Curator's notes
Cinesound Productions ceased feature film production shortly after the end of the Second World War (when the British Rank Organisation bought half the shares in Cinesound's parent company, Greater Union Theatres). Nevertheless, it continued to produce its newsreel, Cinesound Review, along with documentaries and sponsored films on a range of subjects.
Thrill of the Surf is populated with surfers, lifesavers and other beach goers. Beautifully filmed visuals (see the final moments of clip one) are supported by a script – most probably written in part by Ken G Hall – which describes the coastline as a 'giant golden necklace', the sand as a 'place for building castles', women surfers as 'surf nymphs' and surfing as 'Australia's most popular sport'.
This short documentary is one of many Australian films to feature the sun, sand and surf as a significant character. Others on this site include silent newsreel items (Australasian Gazette – Sun Worshippers, c1924), cinema advertisements (Lifesavers: Cryst-O-Mint Flavour, 1925), feature-length productions (Crystal Voyager, 1973 and Puberty Blues, 1981) and even reality television (Bondi Rescue, 2006).