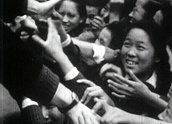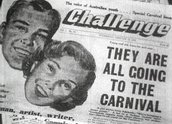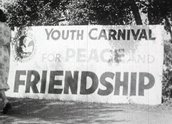 They Chose Peace (1952)
Synopsis
This documentary, made by the Melbourne-based Realist Film Unit, covers the lead up to, and convening of, the Youth Carnival for Peace and Friendship, which took place in Sydney from 15 to 23 March 1952.
Curator's notes
The Youth Carnival for Peace and Friendship was a sporting and cultural event that attracted young people from youth organisations around the globe. It took place in a highly political climate. In 1952, Australian troops had been in South Korea for two years. Only seven years earlier the world had witnessed the destruction of Hiroshima and Nagasaki. The then prime minister, Robert Menzies, was in power against the backdrop of Communism and the Cold War. Menzies had attempted to outlaw the Communist Party only two years earlier.
The convergence of thousands of youth from progressive organisations around the globe in a gesture of peace and cultural exchange is portrayed here as a (positive) radical act. What the documentary argues is that the Government of the time (fuelled by parts of the popular media) saw the carnival as subversive and that the youth were vandals and trouble makers.
They Chose Peace can be seen as an example of left wing propaganda filmmaking (the Realists were certainly accused of being Communist sympathisers by conservative elements of society at the time). However, the Realist Film Unit was also a strong independent movement which agitated for social change and activism in the 1940s and 1950s. The importance and impact of their work has recently been examined in John Hughes' documentary, The Archive Project.