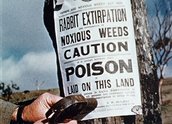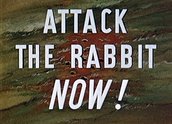 The War Against the Rabbit (1954)
Synopsis
A documentary which addresses the problem of wild rabbit infestation on pastoral and farming land. It tells the story of Heck Bradley, a farmer who seeks help from the Victorian Department of Lands and Survey to conduct an eradication campaign. Each step in the campaign is shown, including a survey of the area, securing of all fences and gates, initial poisoning, clearing top cover, dogging, further fumigation, ripping out the warrens and harrowing.
Curator's notes
Produced for the Vermin and Noxious Weeds Branch of the Department of Lands and Survey, Victoria by the CSIRO Film Unit, The War Against the Rabbit was made after extensive research into rabbit behaviour and rates of reproduction. It was probably part of a direct campaign addressed to Victorian farmers whose land was infested with rabbits. The CSIRO used film to document its research on wild rabbit populations and their social habits in CSIRO – Rabbits in Confined Populations Management Techniques (c1955).
Unlike CSIRO films made for internal research purposes, The War Against the Rabbit was designed to address a broader audience. The character of farmer Heck Bradley and his experience illustrates the methods recommended to tackle increased rabbit populations. Telling a story is a common device for sponsored promotional films and documentaries of the time. Connecting a character's experience to the information being conveyed places the eradication strategy in a real-world context. The film ends with a strong call to action: 'Attack the Rabbit NOW!'.
In 1979 the CSIRO made The Rabbit in Australia, which traced the history of the European rabbit's introduction to Australia and the ensuing battles to control its exploding population. Clip two from the documentary Life on a Sheep Farm (1965) contains some black-and-white excerpts from The War Against the Rabbit.