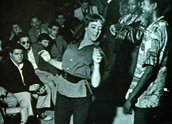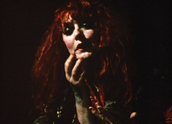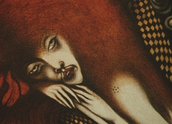 The Tightrope Dancer (1989)
Synopsis
The Tightrope Dancer is about Vali Myers, a beguiling and eccentric artist who lived a provocative, thoughtful, fearless, humorous and passionate life. In 1989, Myers straddles life in a 14th century cottage in an isolated valley near Positano, Italy with annual trips to Naples and New York to visit, dance and sell her art. As her present day story unfolds, the film weaves in elements of her past in Australia and Paris, giving glimpses of how she came to be where she is.
Curator's notes
It is remarkable that although Vali Myers spends most of her time in the valley with only her lover Gianni and many animals for company that she feels right at home in New York and is such an extrovert. It says a great deal about Vali Myers's sense of self and her fluidity in life. Director Ruth Cullen states that she 'wanted to celebrate a wild rambunctious survivor who lives outside of conventional society and flourishes'. Vali Myers grew up in Australia and left home at 14 to work in factories and lived in St Kilda. She became a leading dancer at the Melbourne Modern Ballet Company but at age 19 decided to go to Paris where she lived on the streets mixing with gypsies and the artistic community.
The Tightrope Dancer uses observational footage, interviews, historical film and photos to paint an intriguing picture of an extraordinary woman. Cullen uses footage from two films: Vali (1965) and Vali: Death in Port Jackson Hotel (1971); and photographs from a book called Love on the Left Bank (1958) by Ed van der Elsken that feature Vali Myers. During an interview with George Plimpton, editor of the Paris Review, we see remarkable black-and-white photographs of Vali in Paris in the 1950s (see clip one). There is footage of Vali holding court in New York in her room at the Chelsea Hotel as streams of visitors come through – many famous, like Debbie Harry (Blondie) and Peter Weller (who starred in Robocop, 1987). She entertains and shows her artwork with much aplomb.
Back in Italy, walking into the valley is spectacular – the cliffs on both sides jut up very steeply. When someone walks into the valley to Vali and Gianni's little cottage, a cacophony of dogs barking sounds a warning that rings through the valley long before they are anywhere near the cottage. Vali's adoring relationship with animals is evident in her tattoos, paintings, drawings, and the way she treats them. The fact she has a donkey, many goats, chickens, pigs, over 40 dogs and countless other animals at her hideaway in Italy attests to this as well. She speaks to, and about, them with compassion (see clip two).
Vali Myers is a free spirit. She dances at every opportunity and at the age of 58, has the energy of a young woman and can dance all night. If she encounters a gypsy band on the street, she dances and pulls people in to join her and makes every time feel like a festive occasion. In The Tightrope Dancer, it is apparent that director Ruth Cullen has a close relationship with Myers as so many of the interviews are very intimate and personal (see clip three). Cullen also made a sequel called Painted Lady (2002). Vali Myers returned to Australia in 1994 and set up a studio in Melbourne but returned to the valley as often as she could. She passed away in Melbourne in February 2003.
The Tightrope Dancer had a national theatrical release in 1990 and screened on the ABC the same year. It was nominated for Best Documentary at the 1990 AFI Awards, was accepted into competition at the International Documentary Film Festival in Amsterdam in 1990 and screened at both the Montreal and Los Angeles film festivals.