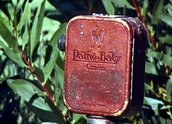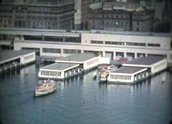 The SBF Story (2007)
Synopsis
This is a four-part chronological documentary made by Frank Straford on the history of SBF (Straford Brothers Films) – an amateur production company formed by Frank and his brother John in the 1950s. It features excerpts (both mute and with sound) from their 9.5mm and 16mm travelogues, animations and short dramas made in the 1950s and '60s, as well as their digital video productions from the 1990s. It also includes home-movie footage shot by their father Vivien in the 1920s and '30s on his hand-cranked Baby Pathé 9.5mm camera. SBF films featured in the documentary include The Workman's Nightmare (1951), Roamin' Holiday (1954), A World to Conquer (1956) and The Piano Tuner (1960).
Curator's notes
The SBF Story is a family history with a difference. Instead of home movies of children playing in the backyard, weddings or birthday celebrations, this film documents the Straford family's love of making movies. Frank's comprehensive narration traces the brothers' filmmaking efforts, from their earliest attempts when Frank was 20 years old and John a teenager appearing in front of the camera through to Frank's experiments with digital video. The prized family heirloom is their father's vintage Pathé Baby 9.5mm camera and tripod (see clip one). It is a rare delight to see one in operation.
The Strafords packaged their family holiday footage into entertaining travelogues with post-synched sound effects, music and voice-overs to accompany the mute film footage (see Western Wonderland, 1954, for example). School activities and sports days are imbued with a sense of drama and competition. John's interest in animation is showcased in a series of cartoons: A'Hunting He Will Go (1951), Brother Bother (1954) and Let's Go Roman (1956). Another highlight is the brothers' science-fiction melodramas about interplanetary invaders (like A World to Conquer, 1956) and human-made monsters (1953's Thirty Years Destroyed). These films also experiment with in-camera effects and stop-motion animation.
Throughout the documentary, the brothers' sense of humour and playfulness comes through strongly. The Straford Family Collection of films in the National Film and Sound Archive (including this documentary) is a significant amateur filmmaking archive, and the Strafords' early 9.5mm films are a particularly strong example of the use of the narrow gauge format.