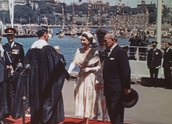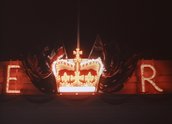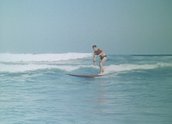 The Queen in Australia (1954)
Synopsis
The Queen in Australia documents the two-month official visit, in February and March 1954, of Queen Elizabeth II and her husband, Prince Philip, Duke of Edinburgh. This was her first visit to Australia and the first by a reigning monarch. The film was shot by a total of 16 cameramen, documenting her visits to each state capital and many regional areas. Major sequences include the arrival of the Royal Navy ship SS Gothic in Sydney Harbour, the Queen opening the 20th Australian Parliament in Canberra, attending a cricket Test in Adelaide, horse races at Royal Randwick and Flemington, tennis at Kooyong in Melbourne, and major exhibitions by schoolchildren in several cities.
At Wagga Wagga, she meets an Aboriginal family who demonstrate boomerang throwing; in Cairns, Torres Strait Islanders perform a ritual war dance. In Broken Hill, she speaks to isolated families via the Royal Flying Doctor Service radio, and at Duntroon Military College in Canberra she hands over new regimental colours to the Army. At Bondi, the Surf Lifesaving Association of Australia stages a major surf carnival, followed by a dramatic demonstration of surfboard riding and rescue boating. After two months, the Queen and Prince Philip depart Australia from Fremantle in Western Australia, aboard the SS Gothic.
Curator's notes
The Queen in Australia was an important film in its time, and it remains an impressive and historic production. It was the first colour feature film made in Australia (predating Charles Chauvel's fiction film Jedda, 1955, by just a few months), and a great deal of prestige rode on its success.
The Australian Government had promised Queen Elizabeth that an official film would be made available soon after her return, so that she could show a record of the visit to her young children, Prince Charles and Princess Anne. The Queen arrived in Australia on 3 February 1954, and the first release prints were expected by the beginning of April. This was a tall order, given that there was no laboratory for colour processing in Australia.
The footage had to be flown to Denham Laboratories in London, and the film was edited in the UK in three cutting rooms, with editors working simultaneously. Three Australian composers wrote music, which was recorded by the Sydney Symphony and sent to London for incorporation. The Australian actor Peter Finch, living in London, did a major share of the voice-over written by prominent Australian writers, TAG Hungerford and George Johnston, with help from the English novelist Laurie Lee.
The aim was to showcase Australia, as well as the royal visit. The idea, expressed by Kevin Murphy, director of the News and Information Bureau, Department of the Interior, was that it should 'present Australia against a royal background, rather than royalty against an Australian background'. The film was made by the best documentary personnel available in Australia, many of them veterans of newsreel duties in the recent war, although none had real experience shooting colour.
The producer, effectively the director, was Stanley Hawes, an English documentary-maker who been running the newly formed Australian National Film Board since 1946. In many respects, this film was a crowning achievement of his long career in Australia. It was made not simply to impress Australians, and not simply Her Majesty the Queen, but the documentary community in England from which he had come. Hawes was a disciple of John Grierson, father of the modern documentary movement, who believed that documentaries could and should express a national and international purpose – something more than propaganda, in fact.
At the same time, there were great forces at work, in a political sense. Since 1949, Australia had had a conservative prime minister, Robert Menzies, for whom the ties with Britain and the monarchy were more than staunch. Menzies had a deep affection for the young monarch. The Queen in Australia became, in effect, a film in which that affection was projected as a national fact, an absolute value shared by all Australians.
Politics in Australia were much more complicated. Indeed politics even within the National Film Board reflected those complications. There were left and right factions within the staff. Menzies had fanned Cold War fear of Communist infiltration in 1949 when he was elected with a huge majority. He had exploited those fears again in 1951, when he asked the Australian people to give him the power to ban the Communist Party of Australia. Australia narrowly declined that request in a referendum. Menzies was facing another election in 1954, so the Queen's visit was in itself a politically charged act, whether intentional or not. Once again, Menzies fanned the flames against Communism during the defection of a Soviet spy, Vladimir Petrov, and his wife. That took place in April 1954, just after the completion of this film. Menzies won the 1954 election.
Australian society was already changing through a mass migration program, begun under a Labor government in 1947. There were strong cultural tensions around this program, widely expressed as a fear that Australia was losing its Britishness, its ties to the mother country. Equally, there was another tradition in Australia, based on Irish migrants, for whom allegiance to Britain and the Queen was far from automatic. For those Australians, with strong ties to Labor, the visit was potentially anathema.
The Queen in Australia reflects none of that history. Australian industry and agriculture are on show, and there are brief glimpses of the Queen meeting workers at the steel mill in Newcastle, but no signs of dissent. The aim of the film was to express unity, not division, as one would expect from a government production. In a deep and probably unconscious sense, the film expressed a dominant politics, taking its lead from the prime minister himself. Australia was rich, hardworking, loyal and white; minorities could coexist, workers were taken care of, the future was bright. Aside from these national hopes for prosperity and productivity, the film also carried our international aspirations. We wanted to gain approval from the highest levels in London, from the Queen on down.
The film is clearly intended to demonstrate to the British that Australia will still be British, even with the influx of thousands of migrants from non-British sources. To those newly arrived in Australia, and those with traditional ties to Britain, it was both a reassurance and a tool of indoctrination. Migrants were expected to watch and learn, to assimilate, partly through the film's demonstration of a splendid British heritage. There were, in short, a great many weighty expectations attached to this film project. Almost 60 years later, it gives us a powerful window on a country that has changed a great deal, despite the assurances that we would stay the same.