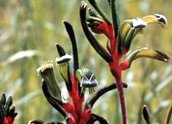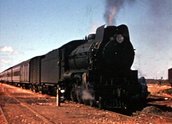 The Golden West (1940)
Synopsis
This travelogue, made by magician Will Alma, features the scenery of Perth and parts of Western Australia. The film is silent with intertitles.
Curator's notes
Possibly filmed on a vacation through Western Australia, The Golden West begins with scenic shots of Perth's city streets and residential suburbs. This is followed by a display of West Australian countryside – the flora, Canning Dam and Mundaring Weir, the goldfields at Kalgoorlie and part of the Trans-Australian Railway across the Nullarbor Plain. Descriptive intertitles are used throughout.
This film was made by William George Alma (known as Will Alma). Alma was a member of the Victorian Amateur Cine Society but was predominantly a magician and collector of material about magic. This collection, the WG Alma collection, is in the Victorian State Library.
The Golden West was deposited with the National Film and Sound Archive by fellow magician and colleague Jim Wallace-Bell. Wallace-Bell and Alma performed together many times. Another film made by Alma, Will Alma Presents a Sensational Vaudeville Extravaganza (1940), captures part of their performance at the Majestic Theatre in Adelaide in 1940.
Secondary curator's notes
by
Liz McNiven
The Golden West begins by showing the scenic beauty of 1940s Perth including its unique native flora. Made by a white Australian, Will Alma, this self-gratifying film celebrates the achievements of white Australia in exploiting the landscape for grazing cattle and sheep, goldmining, water engineering and rail transportation.
Midway through, the film introduces Aboriginal people as 'pitiable beings unable to adapt themselves to the white people's mode of living', without any question of their rights or interests in their lands, waters and resources. This is particularly poignant considering the steam train shown in the film relied on water from the Ooldea soak to fuel the train and, in doing so, eventually caused the soak to dry up. The film shows poverty-stricken Aboriginal people being photographed by passing travellers as if they were just another part of the landscape, along with the flora and fauna.
The socioeconomic disadvantage of the Aboriginal people gathered along the railway siding at Ooldea is sadly misunderstood by the filmmaker. The peoples are shown begging for handouts, attempting to sell carvings and eventually left walking along the line as the train departs. The following intertitle reads 'as our train leaves WA, one can but reflect on the many beauties of the Golden West'. The film concludes with a montage of images of plants, grazing stock and civil engineering projects to mark the greatness of white Australia.