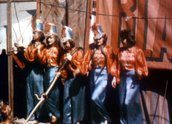 Sydney on Show (c.1940)
Synopsis
A documentary about Sydney's progress as a modern city that shows the city's streets, public buildings and annual events, including the Royal Easter Show.
Curator's notes
The narration in Sydney on Show contextualises Sydney as a city that has seen the triumph of man over nature (saying at one point that 'beauty must die for utility') in the achievements and landmarks that it has produced. Like the government-sponsored A Nation is Built (1938), this film is part travelogue, part advertisement for Sydney.
Sydney on Show was directed by Arthur Higgins, well known as one of Australia's foremost cinematographers in the early days of cinema, and brother of Tasman and Ernest who were also cinematographers. Arthur is perhaps best known for his work on classic feature films such as Raymond Longford's The Sentimental Bloke (1919) and On Our Selection (1920), and Frank Thring's Diggers (1931) and Harmony Row (1933). Higgins developed his own colour process for film and also established his own production company, Solarchrome Colour Processing, which produced advertisements and documentaries, including this one.
Sydney on Show is just one of the films held in the Roger McKenzie Collection at the National Film and Sound Archive for preservation. Over a number of years, filmmaker and producer Roger McKenzie, along with film projectionist and friend Bernie Kent, built a large private film collection of newsreels, documentaries, cinema advertisements and other moving image material.