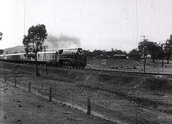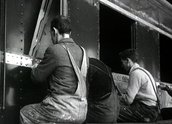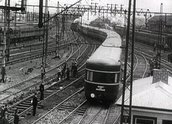 Spirit of Progress: Australia's Wonder Train (1937)
Synopsis
The Spirit of Progress was Australia's first completely air conditioned, streamlined, all-steel passenger train. This documentary details the train's construction; its comfort and safety features; the opening celebrations headed by the Victorian Premier, Albert Dunstan; and the passenger train's inaugural trip departing Melbourne for Albury on 23 November 1937.
Curator's notes
Built by Australian workers in the Newport railway workshops for Victorian Railways, and constructed with a combination of modern factory technologies and high-level individual craftsmanship, the Spirit of Progress was a triumph of both design and manufacture. It incorporated many elements that were seen as a first in domestic rail transport in the Southern Hemisphere.
Innovations of design including the train's smooth riding qualities, streamlined appearance and detailed art nouveau finishings all embody an attention to detail and level of luxury that would have been seen as a marker of progress. In this film, symbols of modernity and progress are often linked and these elements are positioned as a quality of a modern, developed society.