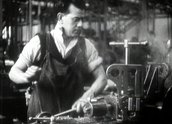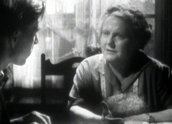 Soldiers Without Uniform (1942)
Synopsis
Charles and Elsa Chauvel's short wartime documentary made for the Commonwealth Department of Information highlights the work of Australians in munitions factories. It includes a dramatised narrative about one family in which a father and son work in factories while the other son fights on the frontline overseas.
Curator's notes
Made between the feature films Forty Thousand Horsemen (1940) and The Rats of Tobruk (1944), Soldiers without Uniform was the first of four documentaries Chauvel produced for the Department of Information (DOI). According to his wife Elsa, Chauvel offered his services to the DOI as a way of serving his country. Each film aimed to boost the morale of domestic workers by recognising their contributions to the war effort.
Soldiers Without Uniforms was filmed in the manganese factories in Victoria where workers often had to be carried outside as a respite from the heavy fumes inside. Chauvel depicts these demanding conditions through cinematographer George Heath's close-ups of sweaty workers, a persuasive and commanding voice-over narration and a rhythmic soundtrack conveying the machinery of war. These scenes are balanced by the dramatised domestic situation which places the workers in a context familiar to working-class families of the time.