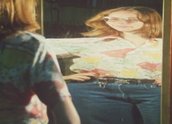 Size 10 (1978)
Synopsis
Size 10 portrays how women's body images have been formed and deformed by advertising and sexism and analyses the separation of women from their bodies and each other. Four women tell their stories of the conditioning they received as teenagers to conform to stereotyped images of women in looks and dress – they all desired to be the 'perfect' size 10 and disliked at least some part of their bodies. Weaving throughout on the soundtrack is Robyn Archer's song 'Size 10'. Her lyrics augment the voices in the film.
Curator's notes
Sarah Gibson and Susan Lambert made Size 10 in response to the typical image of women's bodies presented in the media, and the pressure they felt to conform to those images. Lambert and Gibson had been informed by their involvement in the women's movement, consciousness-raising groups, and reading and talking amongst their friends. When the film was made, more was being written about feminist issues and body image has since become an important concern. If you don't look the way you are supposed to look according to magazines and advertising, it's easy to feel bad about yourself and less able to be the person you really are.
The filmmakers chose a cross-section of women of different shapes and sizes for the film to show that, whatever they looked like, women were never satisfied with their bodies and often hated certain parts of themselves. The four women in the film speak openly about their thoughts and experiences and several times appear naked. They appear to be comfortable and enjoying the playfulness and camaraderie with each other (see clip one). Lambert states that they were naked to indicate 'This is my own body, I'll do what I want and I don't care how it looks. It [was] about owning their own bodies, not to be naked to be looked at but active in their bodies.'
Size 10 is 18 minutes long – a perfect length for a discussion film – and as relevant today as it was in 1978. It was made for schools, women's groups and women's health centres and was one of the most rented films from the Sydney Filmmakers' Cooperative and the Australian Film Institute. It screened at many festivals worldwide, won the Blue Ribbon Award from the American Film Festival and received a Special Mention from the jurors of the Rouben Mamoulian Award at the 1978 Sydney Film Festival.