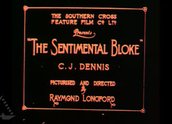 National Treasures – 'The Sentimental Bloke' Film (2004)
Synopsis
Despite being one of the greatest Australian films ever made, the 1919 silent movie The Sentimental Bloke was almost lost to the audiences of today. So how was it recovered?
Curator's notes
The Sentimental Bloke (1919) is an Australian silent film based on the 1915 Australian book The Songs of a Sentimental Bloke by CJ Dennis. Featuring Dennis's language, it has become a classic of Australian cinema.
Warren Brown visits the NFSA in Canberra where he meets archivist Ray Edmondson and learns how a valuable print of the film was found.
This is an episode from the first series of National Treasures, hosted by political cartoonist, columnist and history 'tragic' Warren Brown. Brown draws on a fascinating mix of national treasures from public and private collections to give a snapshot of an historic moment and illustrate the uniqueness of the Australian experience.
The ABC broadcast National Treasures in 2004.