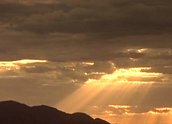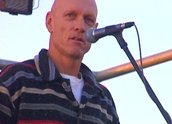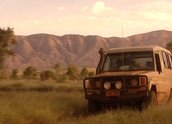 Sammy Butcher, Out of the Shadows (2004)
Synopsis
A documentary about musician Sammy Butcher who once played with the Warumpi Band and now invests his energy in young musicians in his community, Papunya, 250 kilometres west of Alice Springs.
Sammy Butcher, Out of the Shadows is part of the Nganampa Anwernekenhe series produced by Central Australian Aboriginal Media Association (CAAMA) Productions. Nganampa Anwernekenhe means 'ours' in the Pitjantjatjara and Arrernte lanuages, and the series aims to contribute to the preservation of Indigenous languages and cultures.
Curator's notes
A documentary that shows what life after the Warumpi Band is like for Sammy Butcher. Like so many other Indigenous artists, Sammy Butcher's role within his community becomes one of responsibility as well as his individual professional aspirations. The moment in the documentary that has great resonance is when The Orphan Band sing the song 'Ngayulu Nyangu' which means I have seen it all. This expresses the heart of Sammy Butcher's work, which is to create a better way for future generations through music.