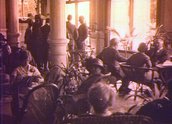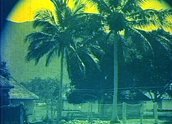 Round About Townsville (1926)
Synopsis
Townsville, Magnetic Island and the Hinchinbrook Channels are the subject of this scenic tour through northern Queensland's attractive tourist destinations. Filled with steady pans and well framed static shots, this documentary also contains explanatory intertitles and colour-tinted and toned sequences.
Curator's notes
Thought to be one of the Know Your Own Country series, produced by the Commonwealth Cinema and Photographic Unit in the 1920s, Round About Townsville positions Townsville as a veritable paradise – a place that combines the 'seductive charm of the tropics with the refinements of civilisation'.
The sepia, blue and green coloured images in this film are produced by the processes of tinting and toning. Tinting is produced by adding an even layer of dye across the image, while toning uses a chemical process to alter or replace the silver metal image with a dye colourant. The green effect seen in clip two is a combination of a yellow tint and a blue tone.