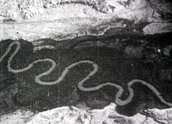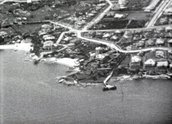 Ross Smith's Flight from London to Australia (1919)
Synopsis
In 1919, Australian aviator Ross Smith and his crew became the first Australians to fly between England and Australia in under 30 days. Their journey took them over the Middle East, through Asia and the subcontinent, and on to Darwin. On arrival in Australia, they toured a number of towns and received a warm reception. Adventurous cameraman Frank Hurley joined the crew for their Australian leg, filming additional aerial footage. The resulting film is a document of their journey.
Curator's notes
After the excitement and adventure of being the official photographer on two Antarctic expeditions and documenting the experiences of Australian troops in the Middle East during the First World War, cameraman Frank Hurley joined the final Australian leg of Ross Smith's flight from London to Australia. In early 1919, the Commonwealth Government announced a £10,000 prize for the first flight by an Australian crew between England and Australia within 30 days. Keith Smith, Ross' brother, was the cameraman for most of the journey between London and Australia, with Hurley joining the crew once they reached Charleville. Hurley had been acquainted with Smith during the First World War, and was keen to capture aerial shots of the Australian landscape – Smith's flight was the perfect opportunity. With a crew of four – the Smith brothers plus two mechanics – the Vickers Vinny biplane left London on 12 November 1919 and arrived in Darwin in just under 28 days.
Smith's footage, along with Hurley's footage of the Australian section, was edited together by Hurley at Australasian Film's Rushcutters Bay Studios. The resulting film was cobbled together from the actuality footage captured by Smith and Hurley, scenes from Francis Birtle's expedition across Australia, war footage Hurley had filmed in Palestine and aerial still photographs of European cities taken en route. The credits at the beginning of the film imply that Hurley was on the flight from England but, in fact, he only spent a short time with the crew once already in Australia. Hurley wasn't shy of recreating or staging scenes to enhance his actuality footage, and clip one is a good example of this.
Ross Smith's Flight from London to Australia premiered at Sydney Town Hall on 8 June 1920. At each of the Sydney screenings, Ross Smith introduced the film. Over the next two months it toured Adelaide, Melbourne, Perth and Fremantle to enthusiastic audiences ready to embrace the achievements of the Smiths as Australian aviation pioneers.