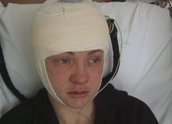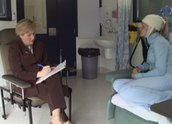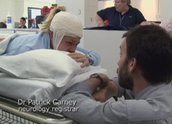 Rachel: A Perfect Life (2007)
Synopsis
Rachel, a single mother, has been having epileptic fits ever since she was 14 years old. Now 28, with two kids, she feels the disease is controlling her life. She makes the decision to have a radical brain operation that, if successful, could free her from the pain and humiliation associated with epileptic fits. The stakes are high but Rachel is determined to lead a new life.
Curator's notes
Rachel: A Perfect Life is a great example of the power of observational documentary filmmaking. It follows a strong character and is unrelenting in the telling of her story from a 'fly on the wall' perspective. It has no narration and is predominantly observing the action as it unfolds. It follows Rachel through the hospital assessment process for the brain surgery, the subsequent surgery and recovery, and along the way reveals Rachel's tragic past, her resilience and her hopes for the future. The larger theme of medical breakthroughs in epilepsy, and the way this medical team and hospital deal with patients going through the treatment, is explored via Rachel's journey.
The film is character driven and intimately observed. The viewer is with Rachel all the way. Occasionally we see the camera and sound crew in the hospital close-circuit video which remind us how incredible it is to have access to this woman's story (see clip two). We are privy to some of the most intimate moments: Rachel having a fit and her embarrassment about it, her sexual molestation as a child by her stepfather, the rape by her father, and her complete emotional and physical vulnerability after the operation.
As Rachel goes through these medical interventions she is always the centre of the story and the filmmaker is unflinching in documenting both the medical and emotional drama. On an even broader level the film could be seen as a study in psycho-social and physical pain and how the two are often interrelated and confused. Rachel, despite all her pain and frustration, is never a victim and asserts herself and her needs throughout the whole encounter with the doctors and nurses treating her. But it is her humour and resilience that are most endearing.
This is an extremely challenging and confronting film and perhaps benefits from the fact that Fiona Cochrane, the producer-director, is herself a doctor. Cochrane, however, is first and foremost a filmmaker and this film is directed, shot and edited into a strong dramatic narrative that delivers a very powerful story of medicine today.
Rachel: A Perfect Life premiered at the 2007 Sydney Film Festival and screened at many international film festivals. It was nominated for Best Direction in a Documentary at the 2008 AFI Awards and won a Gold Plaque at the 2008 Hugo Television Awards, 
Best Feature Documentary at the 2008 POW Fest (Portland Oregon Women's Film Festival), the 
2008 CINE Golden Eagle Award and Best Documentary at the 2009 ILAE Centenary Awards of Film (UK).