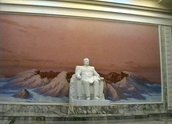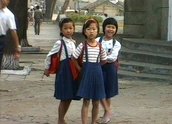 Pyongyang Diaries (1997)
Synopsis
Shortly after the death of the country's leader Kim Il Sung, and again on a return trip two years later in 1996, filmmaker Solrun Hoaas embarked on a personal journey to the Democratic People's Republic of Korea (the DPRK or North Korea) to discover what life is like inside the closed society. The film looks behind the propaganda, the public monuments, the cult of personality of Kim Il Sung and his successor and son Kim Jong Il to tease out the contradictions and complexities between life as it is presented in the media and life as it is lived by its people.
Curator's notes
In Pyongyang Diaries, Solrun Hoaas uses a diary-like voice-over as a narrative device to reflect on the gap between what she was able to film – the public face of North Korea – and what she could not show or access. In this way, she looks behind the exterior of conformity and cohesion that is that public face – showing the small details and specific situations. She often narrates events which she could not capture on camera and her observations about the country become as much about what is concealed as much as what is permitted to be revealed. Her diary narrative also works to link Hoaas's two journeys to the DPRK in 1994 – three months after the death of Kim Il Sung – and again in 1996 – in the infancy of Kim's son and de facto successor Kim Jong Il's reign. Just before Haas returned to the DPRK, widespread floods devastated large parts of North Korea and millions of people were displaced and driven to starvation.
Diplomatically isolated from the West (and from the United States especially), life inside the DPRK remains a mystery to most outsiders. Hoaas ventured into the heavily fortified Demilitarized Zone which demarcates North from South (clip three) – described by former US(United States) President Bill Clinton as 'one of the scariest places on earth' – with the intention of presenting a human face to the dispute between the two Koreas. Her interview with one of the North Korean soldiers working in the Demilitarized Zone reveals that he, just like many other North Koreans that Hoaas meets on her journey, is curious about his so-called 'enemy'.
Hoaas is familiar with the region, having spent her teenage years in Japan and having made several films within that country. Editor Anne Carter's (The Jammed (2007)) gentle pacing of the film adds to its emotional resonance. While the emblems of power and propaganda remain a strong influence on the people within North Korea, Pyongyang Diaries illustrates that the North Koreans are not the mass of uncritical followers of Kim Il Sung's dictatorial leadership as portrayed by Western media, they are far more complex. Hoaas's subtle and layered film strips away some of the façade and while we only see glimpses of what lies behind the cult of personality that Kim Jong Il built up around him and the fierce belief in the party line, it is enough to make this documentary an important one about Australia's Asian neighbour.
Pyongyang Diaries had no local television presale, which may have contributed to the unconventional running time (68 minutes) and Hoaas's expressive and personal diary-style narration. Eventually the ABC bought the film (after it had sold internationally) and it screened in 1998 in its entire 68 minutes. It was shot on Hi-8 video camera and completed on Digital Betacam, which was then transferred to 16mm for screening at the Berlin International Film Festival.
Solrun Hoaas directed, wrote and coproduced the feature film Aya (1990). She also directed and coproduced the documentaries Green Tea and Cherry Ripe (1989) and Rushing to Sunshine (2001), filmed in South Korea as a follow-up to Pyongyang Diaries.