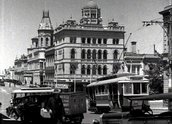 Provincial Cities of Australia: Ballarat, Victoria (c.1932)
Synopsis
This is a travelogue filmed by Arthur Higgins for Frank W Thring's Efftee Film Productions. It surveys the Victorian town of Ballarat from the days of the gold rush up to the 1930s, and features voice-over narration by Thring and an instrumental musical score.
Curator's notes
This documentary, part of Efftee's Cities of the Empires series of travelogues, was, according to film historian Chris Long, the first talkie documentary made on Ballarat. Like Melbourne Today (1931, also part of Cities of the Empires), the final part of the film presents the city's natural beauty, promoting it as a 'garden city' perfect for recreation and leisure. However, there is also a hint of the economic strain of the Great Depression of the 1930s (see clip one), with contemporary prospectors digging up the streets of Ballarat for gold. This is glossed over in the travelogue, with Thring saying that Ballarat has gone from 'gold to gardens'.
Frank Thring was an enthusiastic supporter of talking pictures and a great believer in their potential to bolster the Australian film industry. In 1930, Thring sold his share in Hoyts theatres to start Efftee Film Productions and set up Efftee Studios in Melbourne's CBD (it later moved out to St Kilda). Between 1931 and 1934, the prolific Thring and Efftee produced a broad output of talking films that included a handful of features, three short travelogues, a series of variety shorts called Efftee Entertainers, natural history documentaries (or 'marvelogues') and newsreel items. Thring also produced the first all-Australian talking picture program, which screened to audiences in 1931 at the Plaza Theatre in Melbourne (see Efftee Studio Opening in Melbourne: Speech by Frank Forde, FW Thring Introduces the Stars, and Diggers, all 1931).