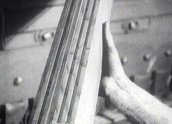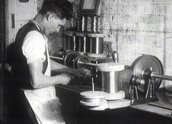 Piano Making (c.1924)
Synopsis
A silent, black-and-white, promotional film presented by the Made in Australia Council that shows the manufacture and assembly of Australian-made pianos. It ends with the slogan 'wherever you trade, buy Australian Made'. The film uses intertitles to describe the manufacturing process.
Curator's notes
Both instructive and promotional, this film provides insights into the workmanship involved in the local manufacture of pianos in the 1920s. It shows, in detail, the steps involved in constructing a piano, including the delivery of logs by horse-drawn cart, the different machines that cut and shape the wood panels, the casting of the iron frames, the stringing of the sounding board, the final assembly, and the polishing of the finished pianos. The film uses steady pans of the workrooms combined with close-ups and multi-angle shots of the machinery and workmen to give a strong overview of the work that takes place within the factory. Intertitles further strengthen the film by providing a description of what some of the machines do.
Presented by the Made in Australia Council (although it is unclear of who produced the film for them), Piano Making is an important film because it represents one of the earliest examples of the work of the Made in Australia Council in the promotion of locally produced and manufactured goods. The Made in Australia Council was formed in the early 1920s as part of a campaign to raise public awareness about the importance of local production. According to records from the Australian Natives' Association of the time (supporters of the Council), the Made in Australia Council produced posters, 'printed matter for public attention', leaflets, pamphlets and 'moving pictures'. Organisations supporting the Council's work, in addition to the Australian Natives' Association (now Australian Unity), included the Chamber of Manufacturers, Australian Industries Protection League, Education Department and Railway Commissioners. The Council's slogan was 'wherever you trade, buy Australian Made'.
As well as being a record of the work of the Made in Australia Council, Piano Making vividly demonstrates the working conditions of people working in factories in the 1920s. Operation of dangerous cutting machinery is conducted without protection such as gloves or eye masks and would not meet occupational workplace health and safety standards of today. At one stage in the film, some men pour molten iron into casts for the piano frame without protective clothing, while in another, men feed pieces of wood into sawing machines (clip one) without gloves!
The National Film and Sound Archive holds other examples of films presented by the Made in Australia Council made in the 1920s, including An Australian Steel Works, Fruit Canning and Can Making in Australia, Boots and Shoes and Factory to Farm: Making Agricultural Implements in Australia.
Parts of this film are nitrate damaged, especially the intertitles, and appears as 'blisters' on the frame. This occurs in some nitrate film because the stock is incredibly delicate and is prone to damage over time.