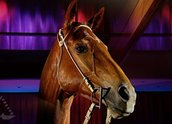 National Treasures – Phar Lap's Hide (2004)
Synopsis
In the 1930s, a New Zealand-born horse called Phar Lap won the hearts of Australians and became one of our most loved and enduring icons. Warren Brown visits Melbourne Museum where the legendary Phar Lap – or at least his preserved hide – stands in a glass case.
Curator's notes
Curator Elizabeth Willis from the Melbourne Museum explains why this big red horse won our hearts and the circumstances around his mysterious death.
This is an episode from the first series of National Treasures, hosted by political cartoonist, columnist and history 'tragic' Warren Brown. Brown draws on a fascinating mix of national treasures from public and private collections to give a snapshot of an historic moment and illustrate the uniqueness of the Australian experience.
The ABC broadcast National Treasures in 2004.