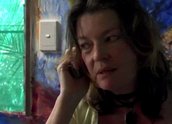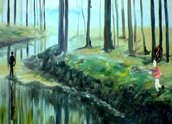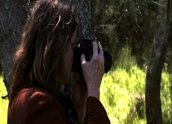 Loved Up – Our Bush Wedding (2005)
Synopsis
An observational documentary about the wedding between artist Gordon Syron and photographer Elaine Pelot-Kitchener. Syron went to jail in 1972 for killing a man who, in his view, was attempting to take the land belonging to his family.
Curator's notes
Our Bush Wedding is quite an important film for a few reasons. It is the story of Gordon Syron, who in defence of his family's land, killed a man. Western cultural language and legal system labelled Syron a murderer and he was incarcerated. Our Bush Wedding gives Syron the opportunity to defend his perspective.
According to Syron's point of view, it was a legitimate act of warfare, and for this reason the film considers the killing as a physical and moral consequence of the continuation of the conflict between Indigenous and non-Indigenous peoples. Also, we hear Syron proclaim the Dreamtime as his religion, and he voices his disdain at the prospect of his wedding being validated by a Christian ceremony.
There are some beautiful and poetic moments in this film, and while the subject matter may be considered contentious by some, the conversation about warfare between Indigenous and non-Indigenous peoples over land, and its moral implications, is a very necessary one. It is contextualised by the concept of two concurrent laws (Indigenous and non-Indigenous) coexisting in the same land. While films such as Dhakiyarr vs The King speak about this more explicitly, the fact that Syron is not what the dominant colonial paradigm would consider a traditional Aborigine makes this compelling viewing and worthy of discussion.
This program has also screened on NITV, National Indigenous Television.