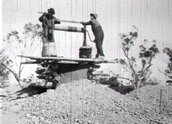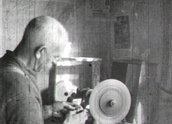 Opal Mining Lightning Ridge (c.1925)
Synopsis
This silent footage with intertitles from around 1925 shows scenes of the opal mining community of Lightning Ridge in New South Wales. It includes miners' shanty houses, the sinking of mine shafts, and the cutting, grinding and polishing of opals.
Curator's notes
This silent actuality footage details daily life in and around Lightning Ridge – a town which sits on rich deposits of black opal. The images capture styles of housing, mining activities, and the people – all-important in the context of the local history of Lightning Ridge, and also of the history of opal mining in Australia. There are no production details or credits on the film and its provenance is unknown. However, the nitrate print held at the National Film and Sound Archive is part of the Harry Davidson collection acquired in the early 1980s. Davidson was a private film collector and an important figure in Melbourne collection and film production circles. He collected well over a million feet of film over the span of 40 years.
Private collectors like Davidson have contributed greatly to Australia's cultural heritage by salvaging early silent film footage such as this which may otherwise have had a small chance of survival. A significant amount of Australia's silent film history has been destroyed or lost (not just actuality or documentary footage, but famously a majority of its silent features) so the value in the mere existence of old nitrate film prints like this one is even greater.