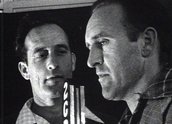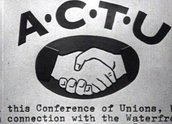 November Victory (1955)
Synopsis
November Victory presents the struggles of Australian workers to improve their conditions and highlights some of the landmark events in the history of the labour movement in Australia.
Curator's notes
November Victory records the campaign against a 1954 Federal Government amendment to the Stevedoring Act. The proposed changes gave employers the right to recruit workers on the waterfront, reversing a hard-won tradition of unionised labour. The film highlights landmark struggles and achievements in the history of the labour movement including the 1854 Eureka stockade, the General Strike of 1917 and the 1938 strikes protesting the export of pig-iron to Japan. November Victory then dramatises the grassroots call to action amongst the broader labour movement in opposition to the Stevedoring Act amendments. A self-contained sequence sets up the central message of solidarity amongst workers across the country (see clip one). Nationwide strike action supported by the ACTU made the new laws unworkable (see clip two). After the union victory, waterside workers triumphantly return to work and the narrator concludes, 'united we stood and the victory was won'.
November Victory was reported by ASIO officials as being a 'scandalously untrue and distorted film version of the 1954 waterfront strike'. The work of the film unit was dismissed as 'devoted solely to propaganda'. It is certainly true that the WWF Film Unit presents a biased view of life on the waterfront. Portraying the experience of the dock workers was one of the film unit's main intentions. Their films are persuasive and, in their support for union campaigns, provide an alternative view of labour history to that depicted in the mainstream newsreels of the time. That scenes in their films are often staged for the camera does not detract from their emotional truth or the filmmakers' success in capturing the spirit of the workers campaigning for improved rights and conditions.
Fighting Films: A History of the WWF Film Unit (2003, Pluto Press) was written by academic Lisa Milner based on her PhD research into the WWF Film Unit. The book was jointly funded by the Maritime Union of Australia, the Construction Forestry Mining Energy Union (Mining and Construction Divisions) and the Australian Manufacturing Workers' Union. To coincide with the publication, the MUA released a three-DVD compilation featuring 13 of the WWF Unit's films as well as John Hughes's documentary Film-work (1981).