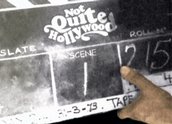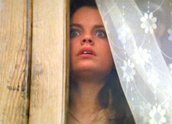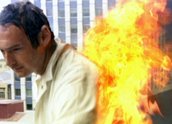 Not Quite Hollywood (2008)
Synopsis
Not Quite Hollywood is a documentary about Australian exploitation films of the 1970s and 80s. In the 1960s, local feature film production was virtually nonexistent and Australian film censorship was the most restrictive in the developed world. With new government policies supporting the arts and the establishment of the 'R' censorship rating (for audiences 18 and over) in 1971, Australia experienced a boom in film production. Not Quite Hollywood looks at the sexploitation comedies, horror movies, car chase films and action thrillers made at the same time as films such as Picnic at Hanging Rock (1975) were creating a respectable international image for new Australian cinema. Not Quite Hollywood features an extensive list of Australian producers, directors, actors, writers, stuntmen, cinematographers and social commentators. Many overseas actors who appeared in Australian exploitation films also discuss their experiences. Films featured in Not Quite Hollywood include Mad Max (1979), Patrick (1978), The Adventures of Barry McKenzie (1972), The Man from Hong Kong (1975), Stone (1974) and Long Weekend (1978).
Curator's notes
Not Quite Hollywood is a good-humoured, highly entertaining look at the exploitation movies made in Australia in the 1970s and 80s. The first feature-length documentary on this topic includes interviews with just about everyone involved and sheds a great deal of light on a branch of Australian cinema that has been largely dismissed, derided or ignored. Director Mark Hartley was well qualified to make Not Quite Hollywood, having produced and directed behind-the-scenes packages for DVD releases of many of the films featured in the documentary. His coverage is comprehensive – there are no glaring omissions – and he crams in an enormous amount of information.
Correctly assuming that most viewers won't have seen Aussie slasher movies like Lady Stay Dead (1981), sexploitation romps like Plugg (1975) or the killer croc pic Dark Age (1986), Hartley sets things up with a concise picture of how exploitation cinema arrived and thrived alongside the more respectable films made during the Australian film revival (see clip one). Film industry support initiatives from the governments of conservative Prime Minister John Gorton (1968–71) and his progressive successor Gough Whitlam (1972–75) played an important role, but the decisive moment for exploitation cinema was the introduction of the 'R' certificate (for audiences 18 years and over) in 1971. From having the most restrictive film censorship in the developed world, Australian adults were suddenly allowed to see full-frontal nudity and blood-and-guts violence like never before. As film producer and social commentator Phillip Adams says, 'it was on'.
With its scene setting in place, Not Quite Hollywood then launches into a free-wheeling series of illustrated anecdotes about the making and marketing of dozens of movies geared to profit from these new-found freedoms. What's most appealing about Not Quite Hollywood is the candour and good humour of the interview subjects, all of whom seem to enjoy talking about their specific roles and also the times in which the films were made. Unlike many documentaries about filmmaking, Not Quite Hollywood is not a well-behaved exercise in nostalgic backslapping. The section devoted to producer Antony I Ginnane is a good example of its irreverent spirit (see clip two). Star interviewee, American director Quentin Tarantino, cites Ginnane as the key figure of Australian exploitation (his credits include Fantasm, 1976; Thirst, 1979 and Harlequin, 1980), and actress Sigrid Thornton (the star of Ginnane's Snapshot, 1978) comments that he was 'seriously misjudged at the time' before filmmaker, writer and cultural commentator Bob Ellis says, 'Tony Ginnane and his films should be burnt to the ground and the ashes sown with salt'.
The documentary is packed with illuminating and frequently hilarious tales from a bygone era of filmmaking. Cameraman John Seale talks about the incredibly dangerous filming of The Man from Hong Kong (1975) (see clip three), sexploitation director John D Lamond (Australia After Dark, 1975; Felicity, 1978) says he'd 'do it again if someone gives me the money' (while a topless dancer gyrates in the background), and executive producer David Hannay cheerfully admits he paid the Hells Angels in marijuana and beer for their work on the 1974 bikie film Stone (1974). Of the many stories concerning foreign stars who appeared in local productions, those told by director Philippe Mora about Dennis Hopper's antics on the set of Mad Dog Morgan (1976) are among the most riveting. To Hopper's credit, he appears to confess his sins in good spirit.
An important point Not Quite Hollywood raises is how very few Australian exploitation movies (with the notable exception of many in the sexploitation cycle) were successful at the Australian box-office. Many proved highly profitable overseas, but it is made clear that Australian audiences and critics had difficulty accepting the kinds of movies 'Americans did better.' It's true there are some pretty dreadful films covered in Not Quite Hollywood but, more importantly, it pays credit to overlooked gems such as the exceptional Colin Eggleston-directed thriller Long Weekend (1978). Though its analysis of social and cultural issues drops off in the second half, Not Quite Hollywood is an invaluable record of an important part of Australia's film heritage. As producer Hal McElroy notes, 'we didn't really know what we were doing… we just tried to shoot the living crap out of it'. And as Phillip Adams concludes, 'without these vulgar films we wouldn't really have an industry'.
Not Quite Hollywood was released in Australian cinemas on 28 August 2008.