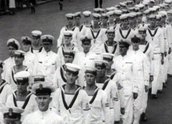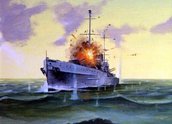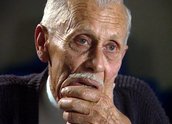 No Survivors: The Mysterious Loss of the HMAS Sydney (1993)
Synopsis
On 19 November 1941, the HMAS Sydney, just returned from Europe, was sailing off the coast of Western Australia when she was sunk by the German raider HSK Kormoran disguised as a Dutch merchant ship. Both ships sank. The HMAS Sydney lost its entire crew of 645 men. Of the HSK Kormoran's crew of 397, 317 were rescued.
The documentary examines the circumstances of Australia's greatest naval tragedy. As well as using actors in re-enactments of the action at sea, the filmmakers have interviewed the actual German survivors. There is also extensive use of historical footage.
Curator's notes
The documentary is visually engaging. It explores various accounts of the maritime incident but there are no conclusions – a mystery that has troubled Australians for more than 60 years remains unsolved. The use of actors playing survivors mixed with interviews with actual survivors is a little confusing at times.