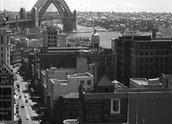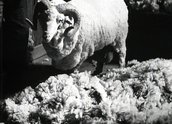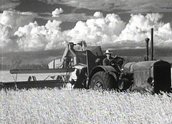 A Nation is Built (1938)
Synopsis
This sprawling and patriotic documentary uses actuality footage, historical re-enactments, fictionalised scenes and propaganda to chronicle Australia's development and progress as a nation. It was sponsored by the Government of New South Wales and made by Cinesound Productions to celebrate Australia's sesquicentenary – marking the 150th anniversary of the arrival of the first fleet of European settlers.
Curator's notes
A Nation is Built begins with an extended prologue which, through explanatory title cards, contextualises white settlement history from the moment Captain Arthur Phillip landed at Port Jackson. This is done with the patriotic British 'Pomp and Circumstance' playing in the background which creates the mood of the film (it is also reprised for the closing sequence). The film then moves into a short series of historical re-enactments which serve to provide the colonial context in pictures before detailing a 'panorama of nationhood' which focuses on the developments across primary industry in New South Wales, showcasing wool, mining, timber, dairy and wheat as well as the state's natural resources, landscape and fauna.
This film conveys a patriotic view of Australia's history by conflating the ideas of nation, land and people. One of the original daybills advertising the film declared it 'Australia's own romantic story of a century and a half of national progress and achievement'. This romanticism is helped by the cinematography of Frank Hurley. Hurley was the chief cameraman for Cinesound Productions and by the time this film was made had been working for them for six years. By this time, he had virtual creative rein over Cinesound's newly created industrial division and his creative mark on this film is pronounced – he shot, scripted, directed and produced it. Hurley spent over six months in production and travelled over 19,000 kilometres throughout New South Wales and shot approximately 20,000 feet of film.
A Nation is Built had its theatrical release in February 1938 at the Prince Edward Theatre in Sydney and was a 'big hit with local audiences'. To a contemporary viewer, the ideas of nationhood portrayed in this film have been altered by recognition of Indigenous communities, subsequent waves of immigration, increased engagement with the Asia-Pacific, and changes in the geopolitical landscape. It is very much a film of its time.