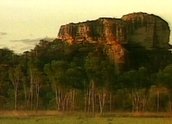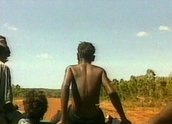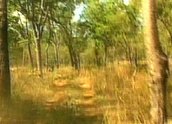 Narbalek (2001)
Synopsis
An observational documentary about the Bordoh clan of Manmoyi, 200 km from Oenpelli, in Arnhem Land.
Narbalek is part of the Nganampa Anwernekenhe series produced by Central Australian Aboriginal Media Association (CAAMA) Productions. Nganampa Anwernekenhe means 'ours' in the Pitjantjatjara and Arrernte lanuages, and the series aims to contribute to the preservation of Indigenous languages and cultures.
Curator's notes
A simple observation-style documentary from Beck Cole, featuring the Bardoh clan of Manmoyi. The documentary has a gentle lapping rhythm, almost like water, as we follow the Bordoh clan on a fishing expedition. The family climbing into a trailer pulled by a tractor, move en masse to the river to swim and hunt food. Woven through this documentary is the intention of the present generation to pass on cultural information to the next generation. The gentle care with which the family relates to each other and how they relate to place is imbued with a connectedness and simplicity keeping the priority of the preservation of culture and tradition in the foreground.